Scribes or writers? The recovery of school dropout as an element of prison re-educational treatment for women of organized crime
Abstract
The consequences of school dropout are a frequently stated theme in the pedagogical debate, more rarely, analyzed in its entirety in adult subjects to understand both the influence in criminogenesis, and for the better structuring of the program of reeducational prison treatment. Recognising the problem of school dropout in the detained person, considering his/her peculiarity in the moments of observation and including appropriate provisions in the treatment program can offer a different, additional, key to understanding the subject and a tool for the development of its potential and inclusive planning. The specific objective of this research contribution is therefore to develop practices that, starting from the analysis of school dropout, allow the reduction of the social dropout of the deviant precipitated in prison and in fact, an opportunity to recover the missing person, realizing that educational compensation due to the objective responsibility of a social system unable to effectively prevent the deviant path.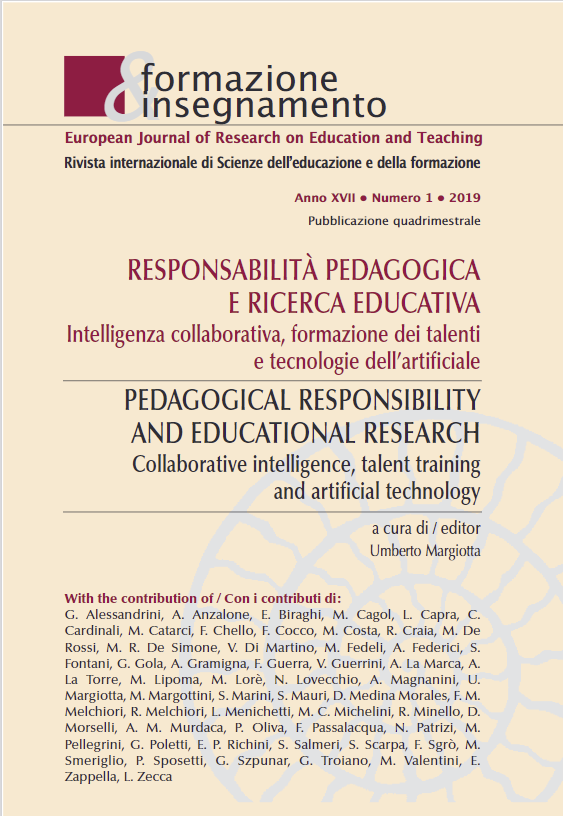 Downloads
How to Cite
Cardinali, C., & Craia, R. (2019). Scribes or writers? The recovery of school dropout as an element of prison re-educational treatment for women of organized crime. Formazione & Insegnamento, 17(1), 227–242. https://doi.org/10.7346/-fei-XVII-01-19_20
License
Copyright (c) 2019 Pensa MultiMedia
This work is licensed under a Creative Commons Attribution 4.0 International License.
Formazione & insegnamento is distributed under Attribution 4.0 International (CC BY 4.0).
For further details, please refer to our Repository & Archiving Policy, as well as our Copyright & Licensing Terms.