Re-educational paradigm in penitentiary treatment. Actions and possible evaluation
Abstract
The centrality of the re-education of the punishment enshrined in the Constitution and subsequently penitentiary rules, requires a reflection on the principles of "prison treatment", theoretically based on the great values, in effect contradicted by many inconsistencies.
Going beyond the mere consideration of the prison as a place of containment
and punishment, pedagogical action / re-educational activities, must combine
interconnected activities whose objectives are the relationship, socialization and
planning. A path of "treatment progression", therefore calibrated on the specificity of the individual in order to facilitate its gradual return in the social environment, without disregarding the principle term of imprisonment, which becomes flexible in connection with the period and the "change" as possible, as well as confirm us today neuroscience.
This contribution reflects not only on educational action and on the ability
to induce the change provided by the educational models, on the need to check with scientific rigor the result of the path by the person in custody, in order to offer suggestions for improvement to achieve target of the treatment paths.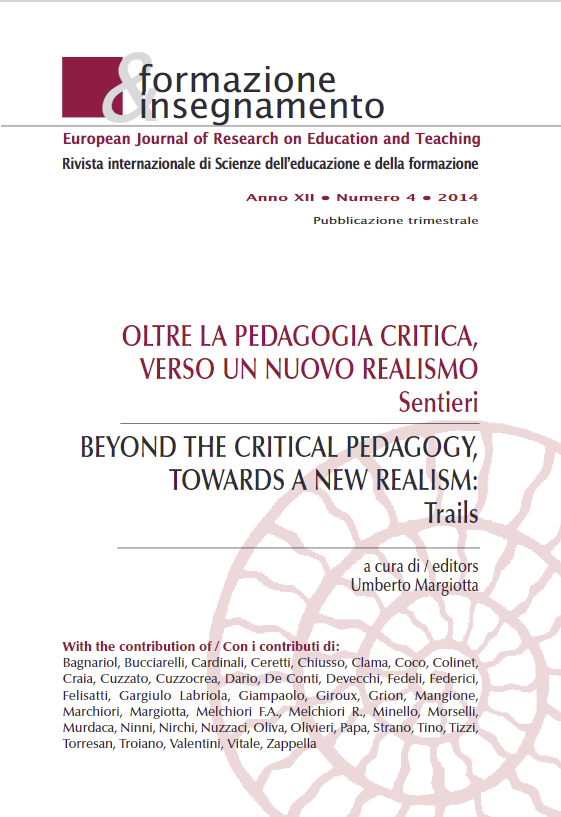 Downloads
How to Cite
Cardinali, C., & Craria, R. (2014). Re-educational paradigm in penitentiary treatment. Actions and possible evaluation. Formazione & Insegnamento, 12(4), 153–166. Retrieved from https://ojs.pensamultimedia.it/index.php/siref/article/view/1618
License
Copyright (c) 2014 Cristiana Cardinali, Rodolfo Craria
This work is licensed under a Creative Commons Attribution 4.0 International License.
Formazione & insegnamento is distributed under Attribution 4.0 International (CC BY 4.0).
For further details, please refer to our Repository & Archiving Policy, as well as our Copyright & Licensing Terms.