The human capital of the deviant person: social risk or resource? The European programs for the re-education and the inclusion
Abstract
To the light of the interventions of the European Union in the theme of social inclusion, the present contribution individualizes in the capability approach that principle that allows giving new dimension to the classical theories of the human capital, widening the perspectives of development of effective interventions on the deviant person. The capability approach, considering the economic growth a mean and not a goal, the person entering the social system, improving the quality of the life of it and producing that elements of liberty that a subject can originate through the development of the abilities, it moves the problem from the distribution of the offers and the resources, often predetermine and
lacking, to the removal of the obstacles that the personal realization has prevented favoring the deviant run. Adopting the model of the capability approach, the run of the liberation of the person through the trial re-educational/inclusive it would overcome the expiation
of the punishment, the coercion, the incapability, valorizing the process of inclusion.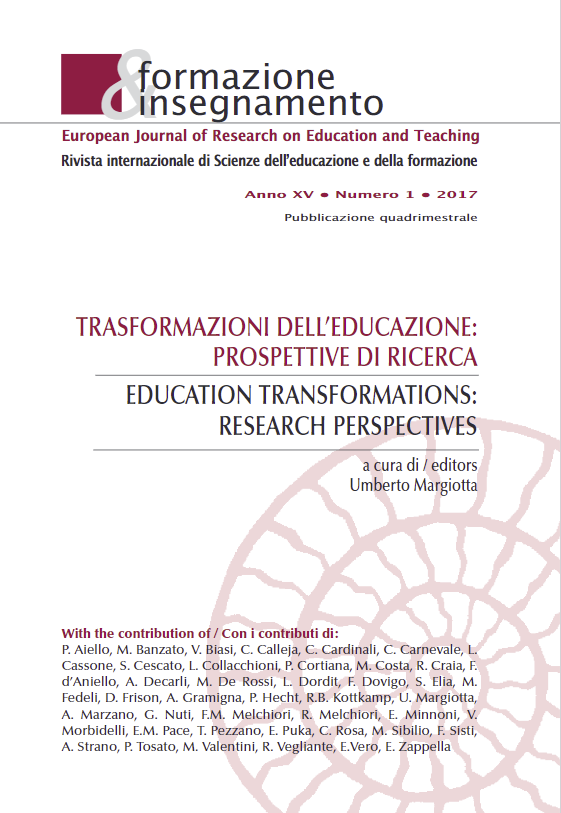 Downloads
How to Cite
Cardinali, C., & Craia, R. (2017). The human capital of the deviant person: social risk or resource? The European programs for the re-education and the inclusion. Formazione & Insegnamento, 15(1), 101–112. Retrieved from https://ojs.pensamultimedia.it/index.php/siref/article/view/2167
License
Copyright (c) 2017 Cristiana Cardinali, Rodolfo Craia
This work is licensed under a Creative Commons Attribution 4.0 International License.
Formazione & insegnamento is distributed under Attribution 4.0 International (CC BY 4.0).
For further details, please refer to our Repository & Archiving Policy, as well as our Copyright & Licensing Terms.