Stimulating educational training in the school through sport: an experimental didactic project
Abstract
The training of young people through learning the main educational values that build tomorrow's adults should be the main objective of any school context. Motor and sports sciences, especially for younger students, can represent one of the tools capable of satisfying this educational need. In this regard, the paper presents itself as a fundamental contribution for didactic action in the field of motor and sports education, understood as a dimension of absolute importance in the field of pedagogical sciences of a special and experimental nature. The experimental proposal object of this research work investigates the educational potential of an innovative didactic approach of a motor and sports nature in primary school in order to demonstrate the importance of the discipline narrative in the pedagogical action carried out by the Italian school system.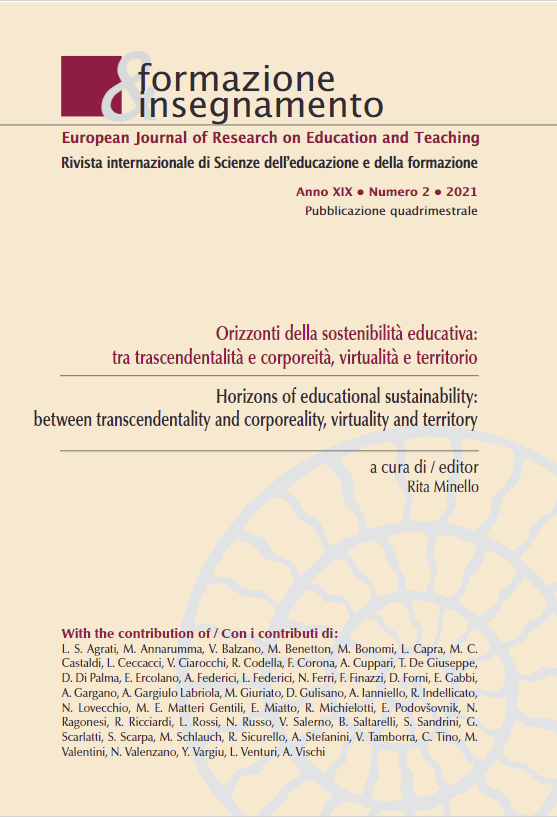 Downloads
How to Cite
Di Palma, D. (2021). Stimulating educational training in the school through sport: an experimental didactic project. Formazione & Insegnamento, 19(2), 403–418. https://doi.org/10.7346/-fei-XIX-02-21_36
License
Copyright (c) 2021 Pensa MultiMedia
This work is licensed under a Creative Commons Attribution 4.0 International License.
Formazione & insegnamento is distributed under Attribution 4.0 International (CC BY 4.0).
For further details, please refer to our Repository & Archiving Policy, as well as our Copyright & Licensing Terms.