From critical issues to opportunities: The challenges for a sustainable school at the time of COVID-19
Abstract
The switch towards emergency distance teaching and learning due to the COVID-19 pandemic has magnified numerous preexisting vulnerabilities and inequalities within the educational systems. This position paper disentangles new needs and opportunities for a further development of teacher educa-tion and school organization after the present health crisis. It was conceived during the SIREF Summer School 2020 and represents the result of a collective interdisciplinary inquiry, incorporating perspectives from general didactics, media education and special education. Starting from the deepening of multiple disparities which interfere with the equal participation envisioned by the Agenda 2030, the paper highlights the urgency for school systems and teachers to accept new challenges of training, providing inclusive environ-ments and expanding curricula towards the promotion of collective social, digital and critical capabilities.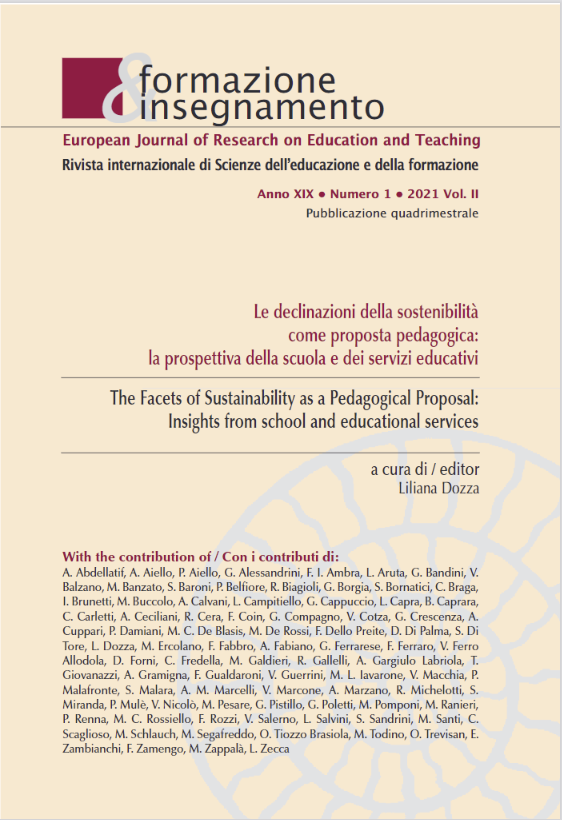 Downloads
How to Cite
Macchia , V. ., Guerrini , V. ., Cotza, V. . ., & Schlauch , M. . (2021). From critical issues to opportunities: The challenges for a sustainable school at the time of COVID-19. Formazione & Insegnamento, 19(1 Tome II), 786–796. https://doi.org/10.7346/-fei-XIX-01-21_67
License
Copyright (c) 2021 Pensa MultiMedia
This work is licensed under a Creative Commons Attribution 4.0 International License.
Formazione & insegnamento is distributed under Attribution 4.0 International (CC BY 4.0).
For further details, please refer to our Repository & Archiving Policy, as well as our Copyright & Licensing Terms.