For a new socio-pedagogical sustainability at the time of COVID-19. The educational fragility in the perception of teachers and school educator
Abstract
The paper aims to rethink learning and education from the point of view of social sustainability, looking at the criticalities that emerged during the COVID-19 pandemic from an eco-systemic perspective, which takes the steps from Bronfenbrenner's ecological theory of human development, in the awareness of the recursive interrelation of the school device with the other levels of the system. In this frame, in the light of the inequalities caused by distance teaching and learning, the need for a new socio-pedagogical sus-tainability that assumes the concept of "educational fragility" emerges, within the theoretical framework of Social Justice Education. Starting from this as-sumption, a qualitative research was developed according to the Student Voice approach, involving 10 students with disabilities or BES and 13 university students active as teachers (both curricular and support) and school ed-ucators, who were able to implement their training through the research. The analysis of the interviews led to present not only an ecological theory of "educational fragility", but also an overturning of some concepts inherent to the logic of competitiveness, towards a process of resemanticisation that makes explicit the paradigm shift, in the direction of a new sustainability that takes the fragility of the contexts and the school-device as its essential starting point.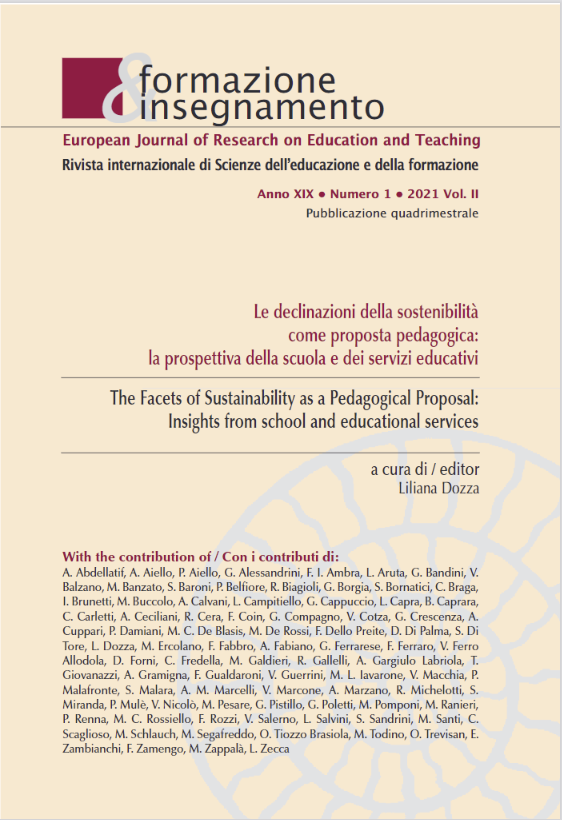 Downloads
How to Cite
Zecca, L., & Cotza, V. . (2021). For a new socio-pedagogical sustainability at the time of COVID-19. The educational fragility in the perception of teachers and school educator. Formazione & Insegnamento, 19(1 Tome II), 721–733. https://doi.org/10.7346/-fei-XIX-01-21_61
License
Authors that publish in Formazione & insegnamento accept the following conditions:
Authors keep their copy rights for their work and give the journal only the right of first publication and distribution of it. Concurrently, the work is licensed under Attribution 4.0 International (CC BY 4.0), which allows others to share their work porovided they attribute it to their original author and acknowledge its first appearance in this journal.
Authors might engage in other licensing agreements, provided such agreements are 

non exclusive

regarding the distribution of the published work (e.g., place a copy in a physical institutional repository, or publish it in a book). In this case, the authors must acknowledge in the new version of the work that it was first published on this journal.
Authors may distribute their accepted manuscripts (pre-print) online (e.g., online repositories, personal website) during the publication process. This is allowed because it is the source of informed exchange with peers and increases the value of the published work. Please be aware that the distribution and dissemination to peer and through archives does not constitute a "publication" in a volume belonging to a series (ISSN): Formazione & insegnamento publishes previously unpublished works.