Planning school training to guarantee educational success for all from a gender perspective
Abstract
This contribution has the main objective to highlight the importance of an equal education towards both sexes to guarantee all students the possibility to freely choose their own scholastic path and to be able to express their talent. In particular, the attention is focused on the relationship between the female gender and the scientific disciplines, characterized since ancient times
by stereotypes and prejudices that consider the female mind not suitable for this type of studies (Noble, 1994; Lolli, 2003; Gagliasso, Zucco, 2007; Lopez 2009). The cultural and social influences that have influenced the possibilities of choice and realization of girls, have in fact limited the development of their talent and, if in the past, women could not even study, sign their work with their names because women, today they can access all courses and professions, even if, as the data show, their presence in the technical-scientific sector is much lower than the male one, especially in the high levels of decision-making and management (Observa, 2015; 2016; 2017; 2018; She figures 2015). The risk is that even today, under an apparent neutrality of knowledge and textbooks, stereotypes continue to exist, which in fact limit the scholastic and professional
choices of girls. As evidenced by some testimonies of university students interviewed, the role of teachers in school, from the first school grades, is fundamental in the approach to the various disciplines, hence the importance for those who deal with education, to rethink a free school education without sexist stereotypes and that is able to guarantee to each individual the full development
of their potential.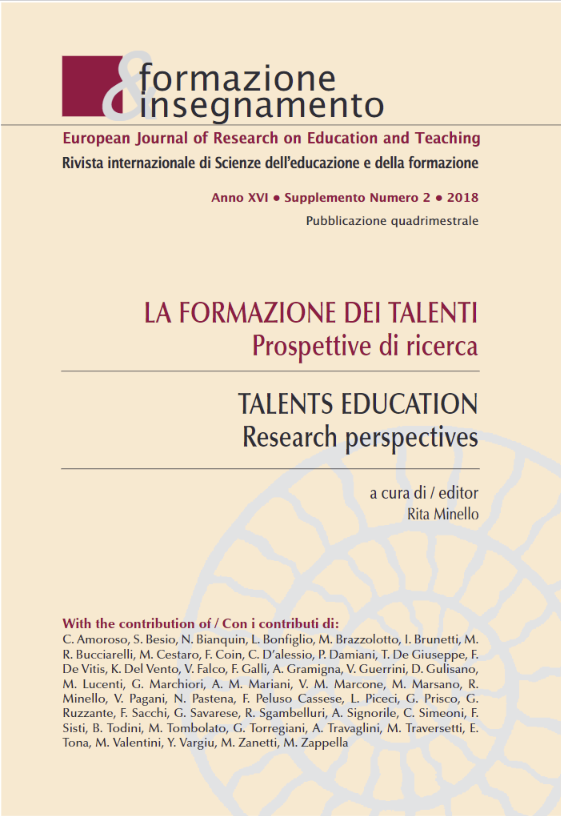 Downloads
How to Cite
Guerrini, V. (2018). Planning school training to guarantee educational success for all from a gender perspective. Formazione & Insegnamento, 16(2 Suppl.), 101–110. Retrieved from https://ojs.pensamultimedia.it/index.php/siref/article/view/3032
License
Copyright (c) 2018 Valentina Guerrini
This work is licensed under a Creative Commons Attribution 4.0 International License.
Formazione & insegnamento is distributed under Attribution 4.0 International (CC BY 4.0).
For further details, please refer to our Repository & Archiving Policy, as well as our Copyright & Licensing Terms.