Opportunità di Apprendimento in Ambienti a limitata libertà personale. Problematica Educativa
Abstract
Motivare a credere che gli ambienti che limitano la libertà personale possano
essere ambienti di opportunità educative e di apprendimento, è un tentativo che vuole ancora una volta agire in favore della creatività e innovatività
del discorso pedagogico nell'affrontare un dialogo con il sistema penitenziario. Dialogo che deve spingere al superamento della dimensione riduzionistica e depauperante del principio della ri-educazione così come enunciato, e volgere nella direzione di "messa in discussione" di quegli elementi che, attualmente, solo normativamente, interagiscono intorno al paradigma stesso della ri-educazione.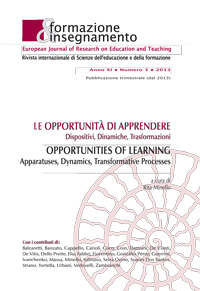 Downloads
How to Cite
De Vitis, F. (2013). Opportunità di Apprendimento in Ambienti a limitata libertà personale. Problematica Educativa. Formazione & Insegnamento, 11(3), 135–142. Retrieved from https://ojs.pensamultimedia.it/index.php/siref/article/view/429
License
Copyright (c) 2013 Francesca De Vitis
This work is licensed under a Creative Commons Attribution 4.0 International License.
Formazione & insegnamento is distributed under Attribution 4.0 International (CC BY 4.0).
For further details, please refer to our Repository & Archiving Policy, as well as our Copyright & Licensing Terms.