Scienze Pedagogiche VS Scienze del Penitenziario. Complessità di un dialogo
Abstract
Rompere le barriere normative delle scienze del penitenziario per aprire a
dialoghi coraggiosi con le scienze pedagogiche. Luogo di scambio, terreno
di confronto, ambito di discussione. È l' educazione che continuando sempre
a far parlare di sé, costruisce la sua identità quale comun denominatore
tra le scienze pedagogiche e le scienze del penitenziario. Denominatore comune
che trova nel luogo normativo del principio rieducativo della pena la sua applicazione, e nello stesso tempo la sua riduzione. Emerge una questione
storica, che urge di una discussione attuale. La complessità del dialogo tra queste due scienze è da rintracciarsi nella necessità di un cambiamento
paradigmatico. Nel riconoscere nell'educazione un movimento di trasformazione che rende educabile un principio. Non la norma che regola il principio educativo, non l'educazione che determina le condizione dell'applicabilità delle norme, bensì principio e movimento educazionale complici nel processo di educabilità. L'impegno e la responsabilità delle scienze pedagogiche è la costruzione di un dialogo con le scienze del penitenziario. Di un dialogo in grado di soddisfare l'attesa sociale di rendere praticamente l'istituzione penitenziaria un place of learning and education.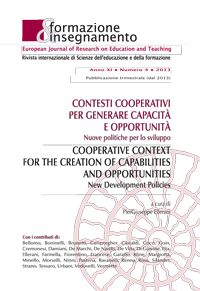 Downloads
How to Cite
De Vitis, F. (2013). Scienze Pedagogiche VS Scienze del Penitenziario. Complessità di un dialogo. Formazione & Insegnamento, 11(4), 235–240. Retrieved from https://ojs.pensamultimedia.it/index.php/siref/article/view/409
License
Copyright (c) 2013 Francesca De Vitis
This work is licensed under a Creative Commons Attribution 4.0 International License.
Formazione & insegnamento is distributed under Attribution 4.0 International (CC BY 4.0).
For further details, please refer to our Repository & Archiving Policy, as well as our Copyright & Licensing Terms.