Education as resistance. Conversing with Don Silverio, the institutional responsible officer of Yaquim education for the protection of culture and the cultural identity of the Tribe
Abstract
In this contribution we present a dialogue with an important member of the Yaqui Tribe of the Mexican Sonora state: Don Silverio Jaime, the institutional responsible officer of indigenous education for the preservation of the cultural identity. The leitmotiv of the essay, and the purpose of the research, is to study the role that the ancestral culture has in the education of yaquim children and, in general, in the education of the members of the tribe, in contrasting
with the pervasive white culture. The specific interest is to examine in depth the
concept of this unique knowledge and its educational role in the educational policies and in the daily experience of the community.
We expect to contribute to valorise the cultural foundations of yaqui, starting by a conscientisation of the perception of yaqui people, and by the changing significance of the ancestral culture in touristic folklore. The epistemological framework refers to an interpretative pedagogy and thus to a hermeneutical approach. The methodological approach is qualitative, and refers to a normative epistemology and a systemic perspective.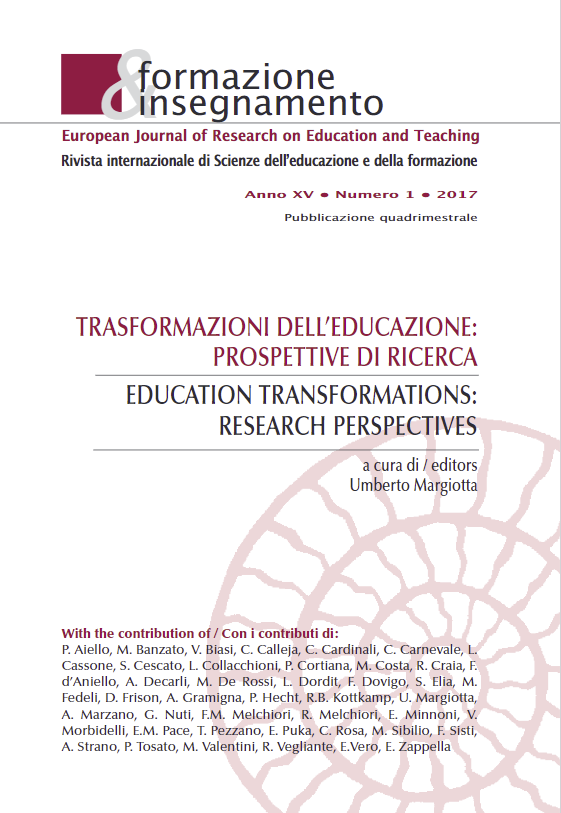 Downloads
How to Cite
Gramigna, A. (2017). Education as resistance. Conversing with Don Silverio, the institutional responsible officer of Yaquim education for the protection of culture and the cultural identity of the Tribe. Formazione & Insegnamento, 15(1), 33–46. Retrieved from https://ojs.pensamultimedia.it/index.php/siref/article/view/2162
License
Copyright (c) 2017 Anita Gramigna
This work is licensed under a Creative Commons Attribution 4.0 International License.
Formazione & insegnamento is distributed under Attribution 4.0 International (CC BY 4.0).
For further details, please refer to our Repository & Archiving Policy, as well as our Copyright & Licensing Terms.