Interdisciplinary Physical Education Teaching: a Literature Review
Abstract
In interdisciplinary teaching, two or more subjects areas are integrated with the goals of improving the learning in each subject area and creating meaningful relationships in a broader area of knowledge. The aims of this paper are to describe the state of the art of the literature on interdisciplinary
teaching, to determine which methodological features are more effective in reaching purposeful findings in learning and personal development of participants, and to interpret the future direction of studies and research.
Content analysis showed that the selected articles can be gathered into three categories: studies on interdisciplinary teaching models, articles on interdisciplinary units or ideas for integrated curriculum, and research reports on the effects of interdisciplinary programs, the voices of pre-service or in-service teachers and students. The theoretical models and empirical evidences
in learning and teaching processes converge on a interdisciplinary teaching based on a collaborative process of co-construction of the educational activities.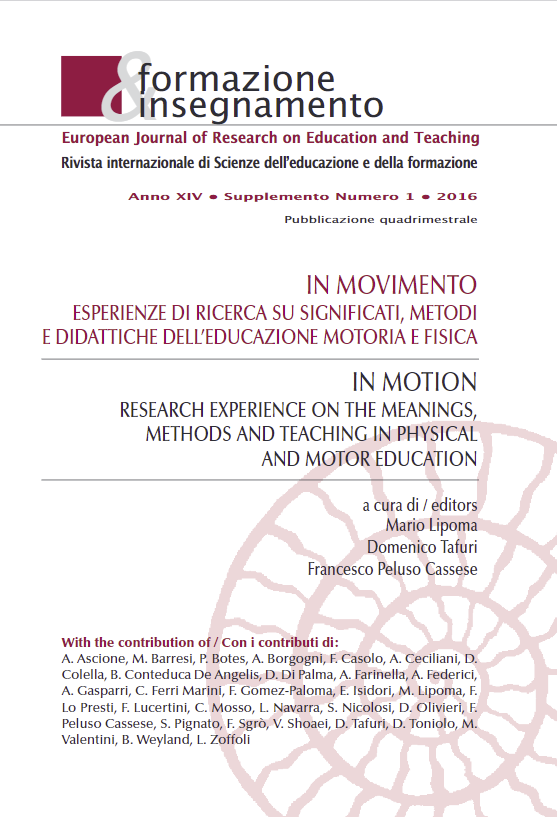 Downloads
How to Cite
Nicolosi, S., Sgrò, F., & Lipoma, M. (2017). Interdisciplinary Physical Education Teaching: a Literature Review. Formazione & Insegnamento, 14(1 Suppl.), 35–46. Retrieved from https://ojs.pensamultimedia.it/index.php/siref/article/view/1875