Toward the Physical Literacy: Pathways of Thoughts and Searching for Meaning in Teaching Primary Physical Education
Abstract
The benefits of physical activity are widespread among the Scientific Communities of Practice. Since childhood, to structure stable health behaviors, it becomes essential to learn and master capabilities in taking care of themselves and practicing regular exercise, to acquire knowledge and skills related to the embodied dimension of the human nature.
In this sense, the family and, later, the school should create opportunities and build learning contexts that allow children to support and valorize this fundamental part of the human being. The current study was aimed to analyse
the representations of physical education teaching in a sample of 108 primary school teachers. The instruments used to reach this purpose were a focus group and two questionnaires. A 10-person focus group was realized with eight teachers and two sport coaches of the national project Sport di Classe; the questionnaires were administered to the whole sample of teachers and their principals.
Findings allow to map a detailed representation of the teaching methods and activities in the physical education classes of our sample. Finally, we discussed the emerging issues of this Self-Analysis of the Teacher Education Practices,
such as the need to pursue with effectiveness the objectives of the Physical Literacy as well as the specific limits linked to the pre-service teacher education programs and the lack of a Physical Education Expert.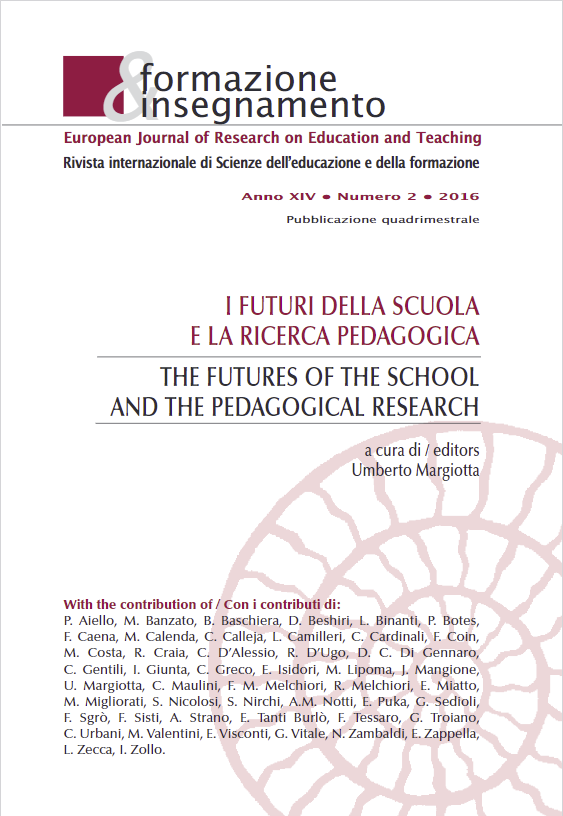 Downloads
How to Cite
Nicolosi, S., Greco, C., Mangione, J., Sgrò, F., & Lipoma, M. (2016). Toward the Physical Literacy: Pathways of Thoughts and Searching for Meaning in Teaching Primary Physical Education. Formazione & Insegnamento, 14(2), 263–280. Retrieved from https://ojs.pensamultimedia.it/index.php/siref/article/view/1847