Physical education, exergames and vicarious learning
Abstract
The World Health Organization pointed out the school as a valid aid for fighting against the problems of overweight and obesity since these are widely shared among childhood and adolescence.
In this respect, the physical education courses feel with a relevant role. According to Le Bouch, Arnold, and Gardner, this subject has to promote teaching and learning experiences in order to support the overall development of each child. Moreover, this subject has to claim its relevance within the school by overcoming the current low levels of appeal and interest among students. Of note, the use of emerging technologies might be a valid support for this aim if these technologies are integrating in the curriculum according to specific theoretical frameworks. Among these technologies, the exergames are a digital games combining exercise with game play and they are several characteristics
adequate for the physical education context. In this respect, the purpose of this study was to provide a reflection on the use of these digital aids following the vicarious learning model and the socio cognitive theory.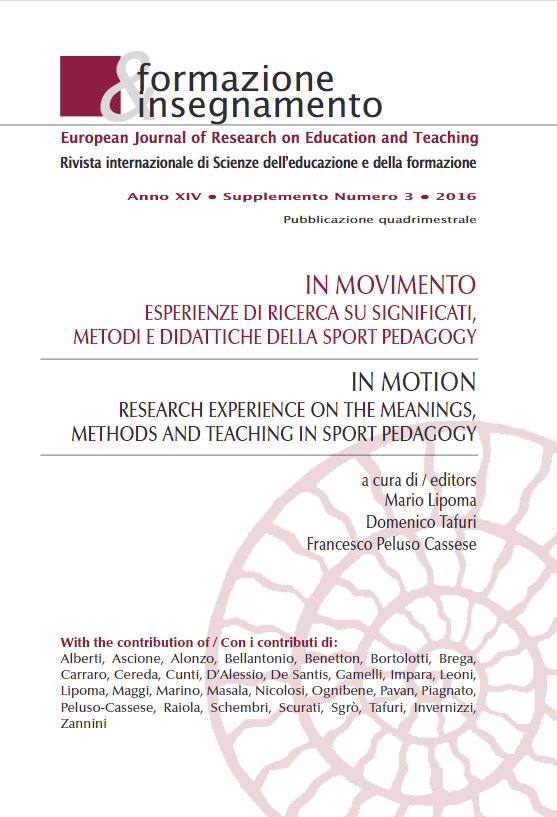 Downloads
How to Cite
Sgrò, F., Schembri, R., Pignato, S., & Lipoma, M. (2017). Physical education, exergames and vicarious learning. Formazione & Insegnamento, 14(3 Suppl.), 63–74. Retrieved from https://ojs.pensamultimedia.it/index.php/siref/article/view/2083