La Matrice Biologica dell'Esistenza Umana. Apprendimento Cooperativo Lignaggio e Responsabilità Etica
Abstract
L'assetto paideutico della scuola italiana vive un momento di forte transizione e di sostanziale cambiamento nella continua ricerca di sempre nuovi modelli interpretativi della conoscenza umana. Questo processo evidenzia l'esigenza di definire con chiarezza interpretativa la natura dei saperi essenziali e dei meta-domini conoscitivi in grado di auto-orientare i processi di apprendimento. Una sollecitante provocazione culturale, in tal senso, potrebbe derivare dal tentativo di coniugare i principi dell'ottica autopoietica
con la filosofia dell'approccio cooperativo attraverso il filone della
natura relazionale dell'essere umano. L'apprendimento cooperativo
pone l'essere in relazione con l'altro, che prende così coscienza della propria soggettività e della responsabilità etica verso coloro con cui condivide l'atto educativo. L'intero svolgersi della vita umana avviene all'interno di uno spazio relazionale, nel fluire conversazionale, in una dimensione interattiva tra il fluire del languaging e dell'emotioning.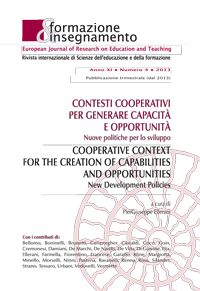 Downloads
How to Cite
Pastena, N. (2013). La Matrice Biologica dell'Esistenza Umana. Apprendimento Cooperativo Lignaggio e Responsabilità Etica. Formazione & Insegnamento, 11(4), 113–118. Retrieved from https://ojs.pensamultimedia.it/index.php/siref/article/view/393
License
Copyright (c) 2013 Nicolina Pastena
This work is licensed under a Creative Commons Attribution 4.0 International License.
Formazione & insegnamento is distributed under Attribution 4.0 International (CC BY 4.0).
For further details, please refer to our Repository & Archiving Policy, as well as our Copyright & Licensing Terms.