A school in mutation between social governance and cultural governance. Policy Maker, Capability approach, Global citizenship and Knowledge
Abstract
The research of innovative educational models is, in the modern era, one of the topics of greatest interest in the pedagogical theorization. The education of young generations has always been the focal point of the social evolution and the economic and cultural growth of a people. A recent study by "TreeLLLe" highlights how, in today's educational landscape, the form of "learning to know" prevails significantly on the form of "learning to live with others". In this sense, it would be desirable to have greater interaction between social governance
and cultural governance. The Capability approach opens, in this direction, interesting reflections, combining capabilities and opportunities in the perspective of well being. In this context, cultural responsibility, social responsibility, political governance and cultural governance intersect each other, creating a subject conscious of "being" through a "social being". Thus, an "active space of education" is dominated by an eternal tension between "universal action" and "individual action". It is necessary to look for the birth of a renewed social and personal identity, capable of facing the challenges of an increasingly
complex and planetary world.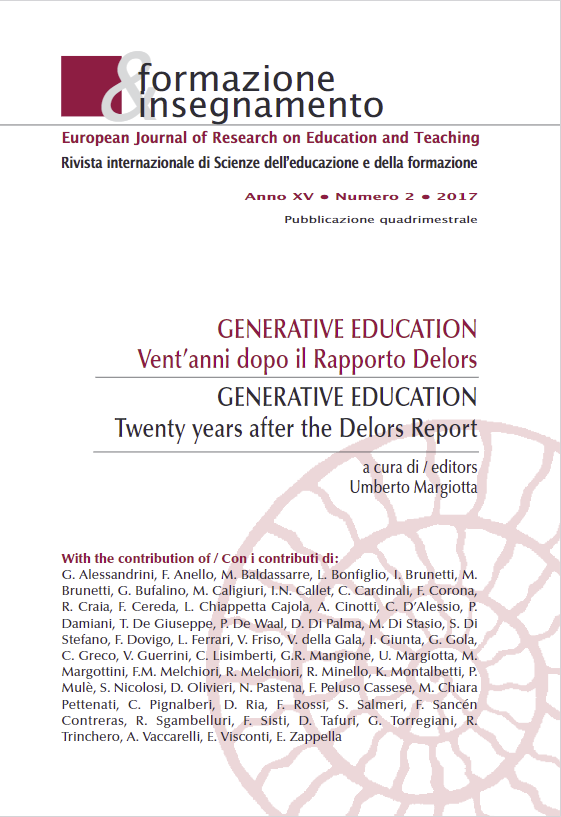 Downloads
How to Cite
Pastena, N. (2017). A school in mutation between social governance and cultural governance. Policy Maker, Capability approach, Global citizenship and Knowledge. Formazione & Insegnamento, 15(2), 85–90. Retrieved from https://ojs.pensamultimedia.it/index.php/siref/article/view/2340
License
Copyright (c) 2017 Nicolina Pastena
This work is licensed under a Creative Commons Attribution 4.0 International License.
Formazione & insegnamento is distributed under Attribution 4.0 International (CC BY 4.0).
For further details, please refer to our Repository & Archiving Policy, as well as our Copyright & Licensing Terms.