Innovation in Education: epistemological perspectives and professionalising dynamics
Abstract
The controversial heuristic question about the foundational value of the conceptuality underlying the terms "instruction, education and bildung" is certainly one of the most debated issues in the pedagogical theory of the contemporary era. Its explanation requires an adequate knowledge of the national and international literature on the question and a deep reflection, capable of integrating the theoretical element with the educational practice, both in the learning contexts and in the educational environments. In this dissertation, we will try to explore emerging issues on the theme of "innovation in education", examining both contemporary challenges and "instruction, education and bildung" processes, together with the consequent implications on professional development, in particular, and on work activities, in a general sense. These challenges have always generated interesting areas for reflection on both learning and innovation processes in the field of pedagogical research relating to the dynamics of learning and teaching. The proliferation and emergence of sophisticated digital technologies have given a new face to the idea of activation. These new forms of education have monopolized and conditioned the whole educational-teaching facility and provide a new face to the idea of culture. In this regard, Augmented Reality (AR) and Gamification are considered "emerging technologies", capable of integrating and modifying the cognitive approach in multiple areas of human activity, especially, in the educational field (e-learning), assuming a significant and innovative role in the field of teaching and learning.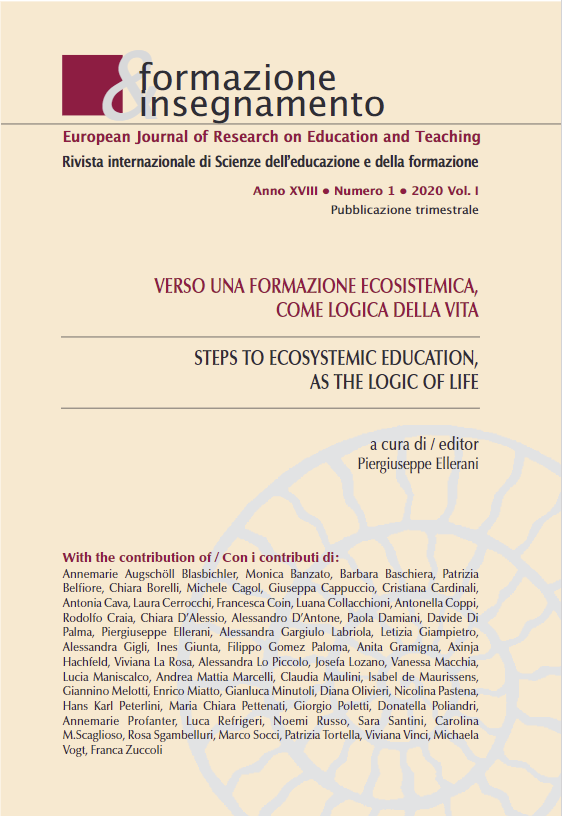 Downloads
How to Cite
Pastena, N. (2020). Innovation in Education: epistemological perspectives and professionalising dynamics. Formazione & Insegnamento, 18(1 Tome I), 166–177. https://doi.org/10.7346/-fei-XVIII-01-20_15
License
Copyright (c) 2020 FORMAZIONE & INSEGNAMENTO. European Journal of Research on Education and Teaching
This work is licensed under a Creative Commons Attribution 4.0 International License.
Formazione & insegnamento is distributed under Attribution 4.0 International (CC BY 4.0).
For further details, please refer to our Repository & Archiving Policy, as well as our Copyright & Licensing Terms.