A qualitative Research on School-Work Alternation. Reflections and Implications for Teaching
Abstract
By the law 107/2015, School Work Alternation (SWA) is transformed as a mandatory practice for all students of high schools, generating attention, debates and questions about its nature and its educational and training potential. In order
to contribute to the understanding of SWA paradigm, within this paper, its investigation is presented in a national and European legislative framework first,
and then included into the international, and educational-situated-experiential
perspectives of Work-Integrated, Work-Related, and Work-Based Learning. In
the light of these perspectives, some data related to a qualitative research has
also been presented. It involved some privileged actors on the exploration of
the real identity of SWA as a good practice. At the end some important implications
for didactics are presented as well.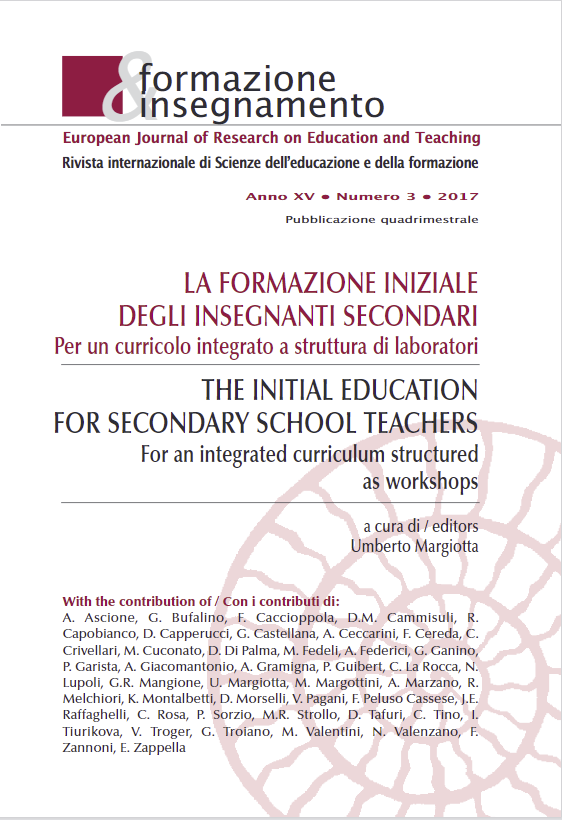 Downloads
How to Cite
Fedeli, M., & Tino, C. (2017). A qualitative Research on School-Work Alternation. Reflections and Implications for Teaching. Formazione & Insegnamento, 15(3), 213–224. Retrieved from https://ojs.pensamultimedia.it/index.php/siref/article/view/2641
License
Copyright (c) 2017 Monica Fedeli, Concetta Tino
This work is licensed under a Creative Commons Attribution 4.0 International License.
Formazione & insegnamento is distributed under Attribution 4.0 International (CC BY 4.0).
For further details, please refer to our Repository & Archiving Policy, as well as our Copyright & Licensing Terms.