Improving Teaching and Learning in Higher Education Organizational Change and the Role of Change Agent
Abstract
The Teaching4Learning@Unipd model, created within the Paduan academic context, is focused both on a faculty development program for improving teaching and learning and on fostering organizational development, based on reflections promoted in individual teachers and within the system relative to their own teaching/learning perspectives, as well as to their own culture and values. The Teaching4Learning @ Unipd model has several different features, among which there is the Change Agents (CA) which is configured as a privileged path, for those instructors who are willing to act as mid-managers and therefore as link among colleagues with the aim of supporting, facilitating and promoting improvement and change in teaching/learning processes. The paper presents the final results of the training path experienced by the CAs, in relation to their reflections collected after each session and to the administration of the final questionnaire which allowed to detect the strengths and weaknesses of the path, to demonstrate the level of perceivable effectiveness of the practices, the change of the teaching/learning perspectives, but also the aspects on which the participants believe they can act as CAs.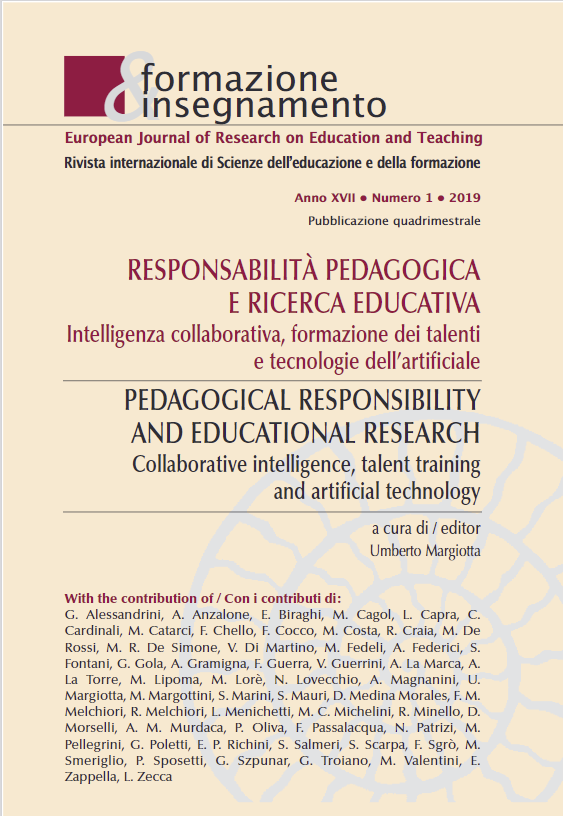 Downloads
How to Cite
Fedeli, M. (2019). Improving Teaching and Learning in Higher Education Organizational Change and the Role of Change Agent. Formazione & Insegnamento, 17(1), 267–282. https://doi.org/10.7346/-fei-XVII-01-19_23
License
Copyright (c) 2019 Pensa MultiMedia
This work is licensed under a Creative Commons Attribution 4.0 International License.
Formazione & insegnamento is distributed under Attribution 4.0 International (CC BY 4.0).
For further details, please refer to our Repository & Archiving Policy, as well as our Copyright & Licensing Terms.