Mother Earth: An epistemic principle in the Otomí education
Keywords:
Prejudice, Colonialism, Formation, Ceremony, Sacred
Abstract
The fundamental educational issue in the cultural tradition of the indigenous Otomí population of Mexico concerns Mother Earth which cannot be understood as private property, therefore it cannot be sold or bought, as a resource that is the foundation of the common good. However, this is fully understandable only starting from a cosmovision, where the harmonious relationship between man and nature is central to giving meaning to the vital horizon. Therefore, it is necessary to offer continuity, even in the present time, to the ceremonies that translate into real forms of education in generational continuity. When the harmony between tradition and current needs reaches a breaking point, chaos can only be generated in community existence. Our research, which has training as its fulcrum, for the epistemological elements that characterize it, has used the support of ethnographic and anthropological research methods in the context.
References
Aguirre Lora, G. M. E. (2005). Dialettica dell'inclusone e dell'esclusione. L'educazione dei diversi in Messico. In A. Gramigna (a cura di). Semantica della differenza. La relazione formativa nell'alterità. Roma: Aracne.
Bauman, Z. (1999). La società dell'incertezza. Bologna: Il Mulino.
Boff, L. (1972). Jesus Cristo Liberador, Ensaio de cristologia critica para o nosso tempo. Petrópolis 1972 (tr. ital. Assisi 1973).
Byung-Chul, Han (2015). Nello sciame. Visioni del digitale (2013). Roma: Nottetempo.
Carrasco, P. (1950), Los otomíes. México D.F.: Universidad Nacional Autónoma de México-Instituto de Investigaciones Históricas.
Cornejo Cabrera, E. (1961). Los Otomíes: Historia del Grupo y de la Cultura y su Situacion Actual. México D.F.: Universidad Nacional Autónoma de México-Instituto de Investigaciones Sociales
De Gagern, C. (1869). Tratti caratteristici della Razza Indigena in Messico. In Boletìn de la Sociedad de Geografìa y Estadistìca de la Repùblica Mexicana, Segunda época, t. I, México: Imprenta del Gobierno en Palacio.
de Sahagún, B. (1946). Historia General de las Cosas de Nueva España, S. A., (Coleccion Athenea) Tomo II, Libro X (5. De los defectos y fallos des los otomíes). México D. F.: Pedro Robledo.
Diels, H., Kranz, W. (1975). Frammenti dei presocratici. Roma-Bari: Laterza.
Foucault, M. (1970). Le parole e le cose. Milano: Rizzoli.
Frank, G. A. (1967). Capitalism and underdevelopment in Latin America, Monthly Review Press, New York.
Garduño, C. J. (1996). Monografía municipal de Temascalcingo. Estado de México, Ed. Gobierno del Estado de México, Toluca Estado de México.
Gramigna, A., Rosa, C. (1917). Il maggiordomo dell'Arcangelo. Educazione e sincretismo religioso presso la popolazione indigena Otomí. Formazione & Insegnamento, XV, 3 2017, ISSN 1973-4778. Lecce: Pensa Multimedia. doi: 107346-fei, pp 371- 387.
Gramigna, A., Rosa, C. (2017). Il maggiordomo dell'Arcangelo. Educazione e sincretismo religioso presso la popolazione indigena Otomì. Formazione & Insegnamento, XV, ISSN 1973-4778. Lecce: Pensa Multimedi. doi: 107346-fei, pp 371- 387.
Jarquìn Ortega, M. T. (1996). Apuntes sobre las congregaciones de indios en el Valle de Toluca. En E. Montes de Oca y M. del Pilar Iracheta C. (coords.). Estado de México, tras la huella de su historia. México, H. Ayuntamiento Constitucional 1994-1996 de Toluca / El Colegio Mexiquense.
Mendizaba, O. M. (2016). Evolución Económica y Social del Valle del Mezquital. México: Consejo Estatal para la Cultura y las Artes.
Mendoza Vicente, T. (1951). Musica Indigena Otomi. Inverstigacion musical en el Valle del Mezquital (Prima Parte, 1936). Mendoza: Univbersidad Nacional de Cuto.
Orwell, G. (1967). 1984 (1949). Milano: Mondadori.
Patrik Encina, D. G. (2011). El calendario hñahñu. Un analisis epistemico y semantico para establecer su estructura. Revista Ra Ximbai, 7, 1, enero-avril. Mexico: Universidad Autonoma Indigena de Mexico, El Fuerte,.
Pérez Lugo, L. (2007). Tridimension Cosmica Otomí. Mexico, D. F.: Universidad Autonoma Chapingo, Plaza y Valdés,
Ramos de Cardenas, F. (1897). Descripcion de Querétaro o Relacion de Jilotepec, hecha por Francisco Ramos de Cardena, escribano publico de la Provincia de Jilotepec, 1582, In Documentos para la Historia de San Luis Potosì, por Primo Feliciano Velazquez, San Luis Potosì, 1897 (4 volumi).
Utrilla Sarmiento, B., Prieto Hernández, D. (2003). Dya jä ihe ne nja'bu. Somos los que somos. Identidad, relaciones interétnicas y resistencia indígena en Querétaro y Guanajuato. México: Instituto Nacional de Antropología e Historia.
Vasconcelos, J. (1922). Conferenza letta al Continental memorial Hall di Washington. In C. Fell, La creazione del Dipartimento di Cultura Indigena a fondamento della Rivoluzione Messicana, s. e., México: Pedro Robledo.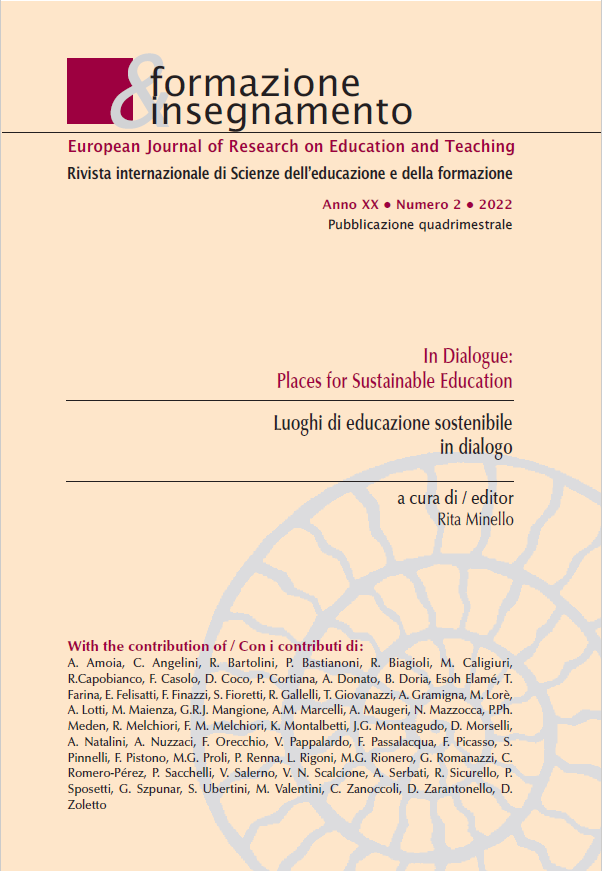 Downloads
License
Copyright (c) 2022 Anita Gramigna
This work is licensed under a Creative Commons Attribution 4.0 International License.
Authors that publish in Formazione & insegnamento accept the following conditions:
Authors keep their copy rights for their work and give the journal only the right of first publication and distribution of it. Concurrently, the work is licensed under Attribution 4.0 International (CC BY 4.0), which allows others to share their work porovided they attribute it to their original author and acknowledge its first appearance in this journal.
Authors might engage in other licensing agreements, provided such agreements are 

non exclusive

regarding the distribution of the published work (e.g., place a copy in a physical institutional repository, or publish it in a book). In this case, the authors must acknowledge in the new version of the work that it was first published on this journal.
Authors may distribute their accepted manuscripts (pre-print) online (e.g., online repositories, personal website) during the publication process. This is allowed because it is the source of informed exchange with peers and increases the value of the published work. Please be aware that the distribution and dissemination to peer and through archives does not constitute a "publication" in a volume belonging to a series (ISSN): Formazione & insegnamento publishes previously unpublished works.