The Alternation between School and Work for Students with Disabilities: The Opinion of the Host Organizations
Keywords:
School-work alternation, Employment, Students with disabilities, School, Inclusion
Abstract
School-Work Alternation and Inclusion: through a series of interviews with the representatives of organizations that have activated alternation paths, this article analyzes the importance of the School-Work Alternation (ASL) as a training activity that becomes an integral part of the life of people with disabilities and what factors can contribute to a positive experience both for the student and for the context. The contribution also indicates the prospects for future research.
References
Aite, L. (2006). Culla di parole: come accogliere gli inizi difficili della vita. Bollati Boringhieri.
Bertagna, G. (2020). Reinventare la scuola: un'agenda per cambiare il sistema di istruzione e formazione a partire dall'emergenza Covid-19. Edizioni Studium Srl.
Berry, J., & Hardman, M. L. (1998). The family as an interactive unit. Lifespan perspectives on the family and disability, 25-46.
Bianquin, N., Besio, S., Giraldo, M., & Sacchi, F. (2018). L'alternanza scuola lavoro per gli studenti con e senza disabilità. Una prima analisi interpretativa comparativa tra lingua e contenuto dei Piani Triennali dell'Offerta Formativa (PTOF).
Biggeri, M., Ballet, J., & Comim, F. (2011). The capability approach and research on children: Capability approach and children's issues. In Children and the good life (pp. 75-89). Dordrecht: Springer.
Caldin, R., & Friso, V. (2012). Quale lavoro per le persone con disabilità, oggi, in Italia?. Studium educationis, 3, 37-58.
Carbonetti, D., & Carbonetti, G. (2004). Mio figlio Down diventa grande. Lasciarlo crescere accompagnandolo nel mondo degli adulti (Vol. 42). FrancoAngeli.
Chianese, G. (2016). L'educazione permanente. Sfide e innovazioni per un sistema di rete territoriale. FrancoAngeli.
Condon, E., & Callahan, M. (2008). Individualized career planning for students with significant support needs utilizing the discovery and vocational profile process, cross-agency collaborative funding and social security work incentives. Journal of Vocational Rehabilitation, 28(2), 85-96.
Chiarolanza, C., & De Gregorio, E. (2007). L'analisi dei processi psico-sociali: lavorare con ATLAS.ti. Carocci Faber.
Dapoto, M. (2014). L'ingresso nel mondo del lavoro dei giovani e dei soggetti diversamente abili [MA dissertation]. Unimore. Retrieved February 27, 2022, from https://morethesis.unimore.it/theses/available/etd-09262014-183341/
Della Porta, D. (2014). L'intervista qualitativa. Gius. Laterza & Figli Spa.
Di Nubila, R. D. (2004). Oltre l'aula: la formazione continua nell'alternanza, negli stage, nelle imprese, nelle istituzioni: Manuale per studenti, docenti, formatori e operatori aziendali. Cedam.
Fantozzi, D. (2019). Scuola e lavoro tra formazione e orientamento delle persone con disabilità intellettiva. https://doi.org/10.3280/ess1-2021oa11861
Friso, V. (2017). Disabilità, rappresentazioni sociali e inserimento lavorativo: percorsi identitari, nuove progettualità. In V. Friso, Disabilità, rappresentazioni sociali e inserimento lavorativo (pp. 101-148). Guerini e Associati.
Giaconi, C., Rodrigues, M. B., & Del Bianco, N. (2019). Gettare lo sguardo in avanti: La coprogettazione nella pedagogia speciale. Edizioni Accademiche Italiane.
Giaconi, C., Socci, C., Fidanza, B., Del Bianco, N., d'Angelo, I., & Capellini, S. A. (2020). Il Dopo di Noi: nuove alleanze tra pedagogia speciale ed economia per nuovi spazi di Qualità di Vita. MeTis-Mondi educativi. Temi indagini suggestioni, 10(2), 274-291.
Giorgini, C., & Consegnati, S. (2012). L'alternanza scuola-lavoro. Una valida proposta formativa per le persone con disabilità o disagio certificato. Orientamenti pedagogici: rivista internazionale di scienze dell'educazione, 59(349), 561-567.
Lee, G. K., & Carter, E. W. (2012). Preparing transition age students with high functioning autism spectrum disorders for meaningful work. Psychology in the Schools, 49(10), 988-1000.
Wehmeyer, M. L. (2014). Self determination: A family affair. Family Relations, 63(1), 178-184.
Mantovani, D., & Santangelo, F. (2020). I dirigenti scolastici e la scuola che cambia: alcuni spunti di riflessione a partire dall'indagine T alis 2018. Autonomie locali e servizi sociali, 43(2), 401-420.
Marcone, V. M. (2018). Work-based learning: il valore generativo del lavoro. FrancoAngeli.
Margottini, M., Rossi, F., & De Carlo, F. (2019). Competenze trasversali e di orientamento: un'esperienza nell'ambi-to dell'alternanza scuola-lavoro Transversal and orientation skills: an experience in the field of work-related learning path. Le Società per la società: ricerca, scenari, emergenze, 26, 273.
Montobbio, E. (2004). Prefazione. La maturità immatura. D. Carbonetti, G. Carbonetti, Mio figlio Down diventa grande. Lasciarlo crescere accompagnandolo nel mondo degli adulti, 9-15.
Nicoli, D., & Salatin, A. (2018). L'alternanza scuola lavoro. Esempi di progetti tra classe. Trento: Erickson.
Paffarini, C., & Torquati, B. Sperimentazione di un percorso di alternanza scuola-lavoro in ambito di agricoltura sociale. XII Conferenza ESPAnet Italia 2019 Territori del welfare: (de-)globalizzazioni, innovazoni e conservazioniAt: Università degli Studi di Urbino Carlo Bo, Urbino, Italy.
Pastore, F., Quintano, C., & Rocca, A. (2020). Stuck at a crossroads? The duration of the Italian school-to-work transition. International Journal of Manpower, 42 (3), 442-469.
Pavoncello, D., & Taricone, F. (2020). Le politiche di inclusione lavorativa delle persone con disabilità: l'attuazione della dichiarazione Onu in relazione alla nuova programmazione 2021-2027. https://oa.inapp.org/xmlui/handle/20.500.12916/752.
Pavoncello, D., & Spagnolo, A. (2015). Agricoltura sociale: un'opportunità per la transizione scuola-lavoro dei giovani con disabilità psichica. Esempi di buone pratiche. https://oa.inapp.org/xmlui/handle/20.500.12916/1103.
Pavoncello, D. (2018). Alternanza scuola-lavoro e disabilità. Tavola rotonda: la risposta delle istituzioni. https://oa.inapp.org/xmlui/handle/20.500.12916/177.
Pavone, M. (Ed.). (2009). Famiglia e progetto di vita: crescere un figlio disabile dalla nascita alla vita adulta. Trento: Erickson.
Sandri, P. (2006). Valenza formativa della matematica. Nuova Secondaria, 4, 37-41.
Tortello, M., & Messaggio, I. (2001). L'integrazione scolastica ha compiuto trent'anni: quattro parole chiave per fare qualità. Obbligo di istruzione e obbligo di formazioneQuali saperi e quali risorse per gli allievi in situazione di handicap». Torino, 14 ottobre 2000.
Tino, C., & Grion, V. (2018). Lo sviluppo delle soft skill in Alternanza Scuola-Lavoro: punti di vista degli studenti italiani. Ricerche di Pedagogia e Didattica. Journal of Theories and Research in Education, 13(1), 121-149.
Tino, C., & Fedeli, M. (2015). L'Alternanza Scuola-Lavoro: uno studio qualitativo. Formare, 15(3), 213-231. https://doi.org/10.13128/formare-17177
Tino, C., & Ruzzante, G. (2016). Alternanza scuola-lavoro: un processo per l'inclusione. RicercAzione, 8(1), 105.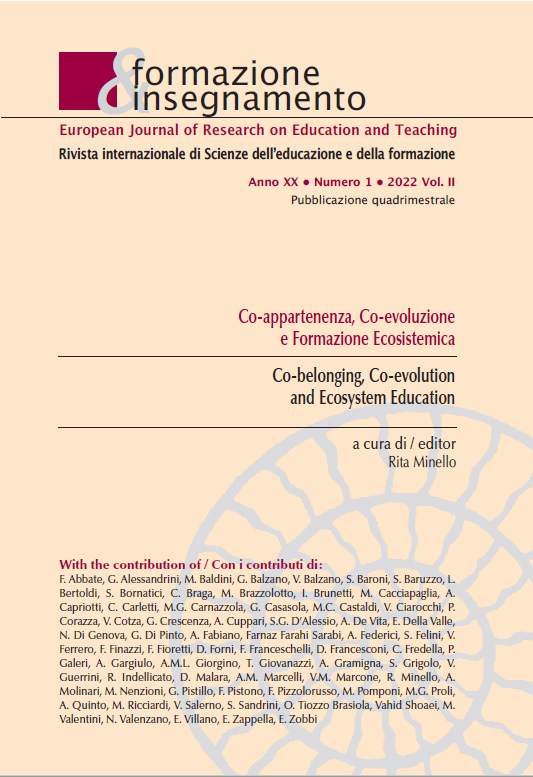 Downloads
License
Copyright (c) 2022 Emanuela Zappella
This work is licensed under a Creative Commons Attribution 4.0 International License.
Authors that publish in Formazione & insegnamento accept the following conditions:
Authors keep their copy rights for their work and give the journal only the right of first publication and distribution of it. Concurrently, the work is licensed under Attribution 4.0 International (CC BY 4.0), which allows others to share their work porovided they attribute it to their original author and acknowledge its first appearance in this journal.
Authors might engage in other licensing agreements, provided such agreements are 

non exclusive

regarding the distribution of the published work (e.g., place a copy in a physical institutional repository, or publish it in a book). In this case, the authors must acknowledge in the new version of the work that it was first published on this journal.
Authors may distribute their accepted manuscripts (pre-print) online (e.g., online repositories, personal website) during the publication process. This is allowed because it is the source of informed exchange with peers and increases the value of the published work. Please be aware that the distribution and dissemination to peer and through archives does not constitute a "publication" in a volume belonging to a series (ISSN): Formazione & insegnamento publishes previously unpublished works.