I valori degli insegnanti tra decisione e competenza etica
Abstract
In questo articolo investighiamo i valori degli insegnanti insiti nell'azione didattica e quindi sugli aspetti concernenti i valori nell'insegnamento e nella professione dei docenti in termini di capacità e competenza. Questo articolo mette in luce come i valori intesi quali principi che orientano l'azione di una persona sono direttamente implicati nelle scelte decisionali e nella valutazione della situazione. I tre termini principali sono definizione del caso morale, decisione e valutazione delle conseguenze. Dalla capacità ne abbiamo fatto conseguire la competenza etica dell'insegnante e la riflessione
il discernimento come aspetti distintivi dell'insegnante etico che riflette sui propri valori.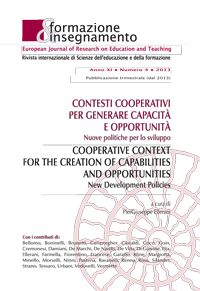 Downloads
How to Cite
Brunetti, I. (2013). I valori degli insegnanti tra decisione e competenza etica. Formazione & Insegnamento, 11(4), 161–166. Retrieved from https://ojs.pensamultimedia.it/index.php/siref/article/view/399
License
Copyright (c) 2013 Immacolata Brunetti
This work is licensed under a Creative Commons Attribution 4.0 International License.
Formazione & insegnamento is distributed under Attribution 4.0 International (CC BY 4.0).
For further details, please refer to our Repository & Archiving Policy, as well as our Copyright & Licensing Terms.