Gli scenari educativi e formativi internazionali in mutamento: contesti cooperativi e capability approach
Abstract
Le competenze negli adulti europei decrescono, i quindicenni asiatici dimostrano alte competenze in matematica e comprensione, la dispersione dei sistemi scolastici nel vecchio continente è ancora elevata: i nuovi scenari emergenti dalle comparazioni internazionali, evidenziano una crisi silenziosa, che consolida l'urgenza di ripensare sia i significati della crescita, sempre più necessaria per uno sviluppo umano e non solo economico, sia le politiche per il lifelong learning. Le ricerche sui risultati di apprendimento continuano a presentare l'importanza dei contesti cooperativi per formare competenze e contemporaneamente si delineano delle interessanti connessioni con il capability approach, soprattutto per il costrutto del cooperative learning.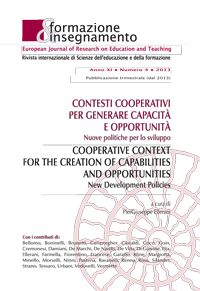 Downloads
How to Cite
Ellerani, P. (2013). Gli scenari educativi e formativi internazionali in mutamento: contesti cooperativi e capability approach. Formazione & Insegnamento, 11(4), 15–32. Retrieved from https://ojs.pensamultimedia.it/index.php/siref/article/view/386
License
Copyright (c) 2013 PierGiuseppe Ellerani
This work is licensed under a Creative Commons Attribution 4.0 International License.
Formazione & insegnamento is distributed under Attribution 4.0 International (CC BY 4.0).
For further details, please refer to our Repository & Archiving Policy, as well as our Copyright & Licensing Terms.