The study of agency according to the Capability Approach in qualitative research paradigms
Abstract
The concept of agency according to the Capability Approach in educational settings is recent, and in research with teachers remains vague and scarcely conceptualized. This paper reviews the international studies on agency to identify theories, instruments, and methodologies to promote and inspect the teachers' agency according to a capability approach. This paper proposed two research streams. On the one hand, the development of new practices and cooperation between teachers can be promoted through the Cultural Historical Activity Theory to tackle problems considered as important by teachers, which means, according to a Capability Approach, promoting active participation and positive social change. On the other hand, when having to understand the factors that allow teachers to transform their functioning into capabilities, the identity and life course theory can help inspect the connections between the interactive, the practical-evaluative and projective dimensions of teachers' agency.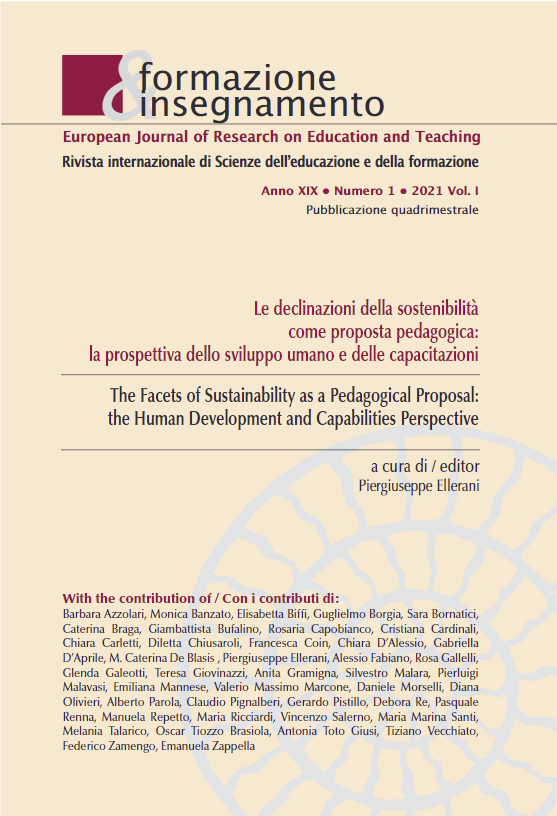 Downloads
How to Cite
Morselli, D., & Ellerani, P. (2021). The study of agency according to the Capability Approach in qualitative research paradigms. Formazione & Insegnamento, 19(1 Tome I), 084–097. https://doi.org/10.7346/-fei-XIX-01-21_07
License
Copyright (c) 2021 Pensa MultiMedia
This work is licensed under a Creative Commons Attribution 4.0 International License.
Formazione & insegnamento is distributed under Attribution 4.0 International (CC BY 4.0).
For further details, please refer to our Repository & Archiving Policy, as well as our Copyright & Licensing Terms.