Language, Culture, and Instruction in the Inclusive Classroom: Educators of Migrants and Refugees in Malta
Abstract
Migrant learners in Malta are EU nationals (the vast majority) or non-EU (mostly from Libya, Serbia, Syria, and Pakistan) with little or no ability to speak English or Maltese, and at times with limited, interrupted, or no formal education. Newly arrived students with no proficiency in English or Maltese can attend induction classrooms for a year to acquire communicative competence
in the languages of schooling, before being placed in mainstream classrooms where academic instruction is conducted through English and Maltese. Teachers possess varying degrees of reading, writing, and speaking proficiency in both languages. English and Maltese are used in academic and social interactions, but formal academic writing usually takes place in English.
In this paper, we give the results of a quantitative survey that examines Maltese teachers' perceptions about their own cultures, the languages they speak, and what they need to carry out effective instruction with their students who come from a variety of countries, with varying L1 language and literacy.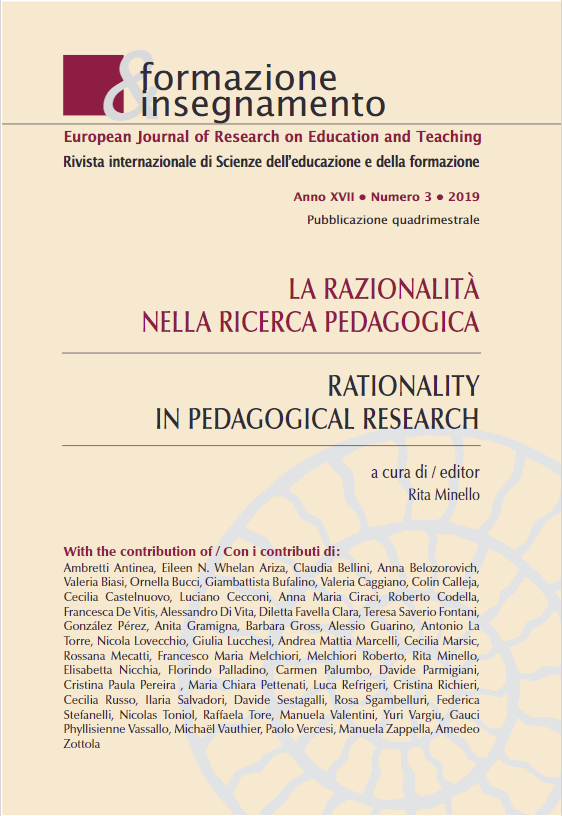 Downloads
How to Cite
Ariza, E., Calleja, C., & Vassallo Gauci, P. . (2019). Language, Culture, and Instruction in the Inclusive Classroom: Educators of Migrants and Refugees in Malta. Formazione & Insegnamento, 17(3), 213–232. https://doi.org/10.7346/-fei-XVII-03-19_18
License
Copyright (c) 2019 Pensa MultiMedia
This work is licensed under a Creative Commons Attribution 4.0 International License.
Formazione & insegnamento is distributed under Attribution 4.0 International (CC BY 4.0).
For further details, please refer to our Repository & Archiving Policy, as well as our Copyright & Licensing Terms.