COVID-19 school closures turning a spotlight on inequities and other shortcomings from the voices of those in danger of falling through the cracks
Keywords:
COVID-19, Malta, Reflective practitioner, Educators, Parents
Abstract
This study presents five themes which were highlighted by Maltese educators and parents when reflecting on their experience of sustaining the education of their students and children during the COVID-19 pandemic. By capturing these voices, the study seeks to gain insight into how these educators and parents reflected on their practice and daily experiences and how this has impinged on the educational experience of the students.
References
Ainscow, M., Conteh, J., Dyson, A. and Gallanaugh, F. (2007). Children in Primary Education: Demography, Culture, Diversity and Inclusion (Primary Review Research Survey 5/1). Cambridge: University of Cambridge, Faculty of Education.
Alexander, R. (Ed.) (2010). Children, their World, their Education: Final Report and Recommendations of the Cambridge Primary Review. London: Routledge.
Brunken, N. (2008). Primary Schooling and Children's Social Emotional Wellbeing: A Teacher's Perspective. AARE 2007 International Educational Research Conference, Australia: Australian Association for Research in Education (AARE).
Bouchghoul, H., Teboul, J L., Senat, M V., & Vigoureux, S. (2020). Does socioeconomic status have any influence on success at national ranking exam?, a prospective survey. BMC Medical Education, 20, 402. https://doi.org/10.1186/s12909-020-02321-z
Di Pietro, G., Biagi, F., Dinis Mota Da Costa, P., Karpinski, Z. and Mazza, J. (2020). The likely impact of COVID-19 on education: Reflections based on the existing literature and recent international datasets. EUR 30275 EN. Luxembourg: Publications Office of the European Union. http://dx.doi.org/10.2760/126686
European Commission (2006). Efficiency and Equity in European education and training systems. Communication from the Commission to the Council and to the European Parliament., Brussels, 8.9.2006. COM. (2006) 481 final.
European Parliament Resolution (11 November 2021). The European Education Area: a shared holistic approach P9_TA(2021)0452. 2020/2243(INI)
ETUI and ETUC (2020). Benchmarking working Europe. Brussels, ETUI.
Green, H., Macphail, C., Alananzeh, I. and Fernandez, R. (2022). Association between economic wellbeing and ethnicity, socioeconomic status, and remoteness during the COVID-19 pandemic. Public Health Nursing, 39, 1195–1203. https://doi.org/10.1111/phn.13107
Guo, J. (2014). Educational expectations of parents and children: Findings from a case of China. Asian Social Work and Policy Review, 8(3), 228–242. https://doi.org/10.1111/aswp.12037
Li, X., Yang, H., Wang, H., & Jia, J. (2020). Family socioeconomic status and home-based parental involvement: A mediation analysis of parental attitudes and expectations. Children and Youth Services Review, 116, 105111. https://doi.org/10.1016/j.childyouth.2020.105111
Ma, Z., Idris, S., Zhang, Y. et al. (2021). The impact of COVID-19 pandemic outbreak on education and mental health of Chinese children aged 7–15 years: an online survey. BMC Pediatr, 21, 95. https://doi.org/10.1186/s12887-021-02550-1
Pensiero, N., Kelly, T., & Bokhove, C. (2020). Learning Inequalities during the COVID-19 Pandemic: how families cope with home-schooling. University of Southampton. http://dx.doi.org/10.5258/SOTON/P0025
Stull, J. C. (2013). Family socioeconomic status, parent expectations, and a child's achievement. Research in Education, 90(1), 53–67. https://doi.org/10.7227/RIE.90.1.4
Turner, S. L., Joeng, J. R., Sims, M. D., Dade, S. N., & Reid, M. F. (2019). SES, gender, and STEM career interests, goals, and actions: A test of SCCT. Journal of Career Assessment, 27(1), 134–150. https://doi.org/10.1177/1069072717748665
Volante, L., Schnepf, S. V., Jerrim, J., & Klinger, D. A. (Eds.) (2019) Socioeconomic inequality and Student Outcomes: Cross-national trends, Policies, and Practices. Springer.
WORLDOMETER (2021). Countries in the EU by Population. Worldometers.info. Retrieved April 6, 2021, from https://www.worldometers.info/population/countries-in-the-eu-by-population/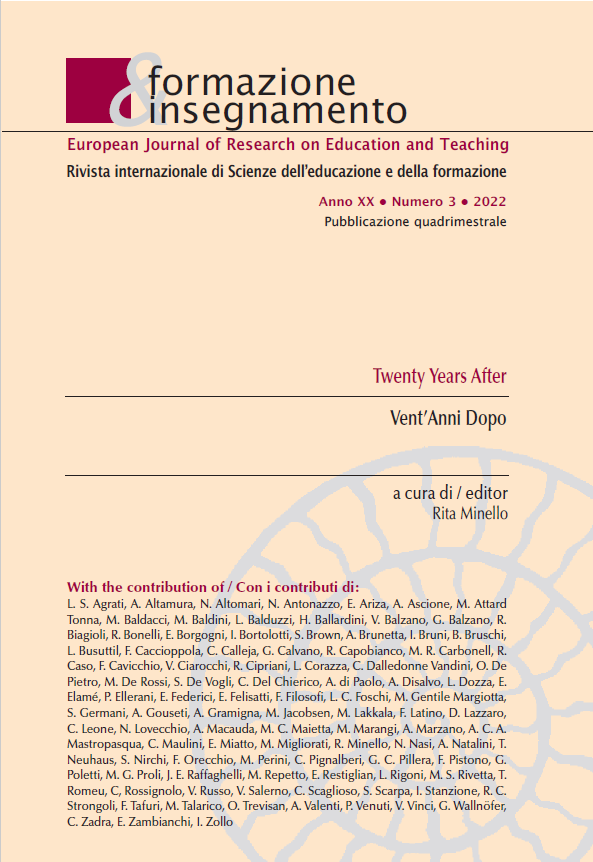 Downloads
How to Cite
Calleja, C., Attard Tonna, M., & Busuttil, L. (2022). COVID-19 school closures turning a spotlight on inequities and other shortcomings from the voices of those in danger of falling through the cracks. Formazione & Insegnamento, 20(3), 122–134. https://doi.org/10.7346/-fei-XX-03-22_10
License
Copyright (c) 2022 Colin Calleja, Michelle Attard Tonna, Leonard Busuttil
This work is licensed under a Creative Commons Attribution 4.0 International License.
Formazione & insegnamento is distributed under Attribution 4.0 International (CC BY 4.0).
For further details, please refer to our Repository & Archiving Policy, as well as our Copyright & Licensing Terms.