For a pedagogy of values
Abstract
This work aims to reflect on education and the drifting of which it is often protagonist, especially in the young generations who nevertheless draw the older generations into question, making them the protagonists of a deterioration which is to be halted. Family, school, institutions must together understand or, better, take action and intervene in this educational emergency. Taking up again a book, the book "Experience and Education" by John Dewey, rereading it and bringing up original parts by the author, one discovers, rediscovers his thought, which are deep and meaningful and which helps us to find, to find once more the road we have lost, the road we must travel along, without creating or inventing special effects from goodness knows where. In the book we find written in black and white, for social control, good practices which can put the education machine back on the right track, a machine which seems to have crashed against a wall of nonsense, at a point of non-return. We must all restore the right balance to this machine, and give back meaning and value to that which characterizes us: humanity.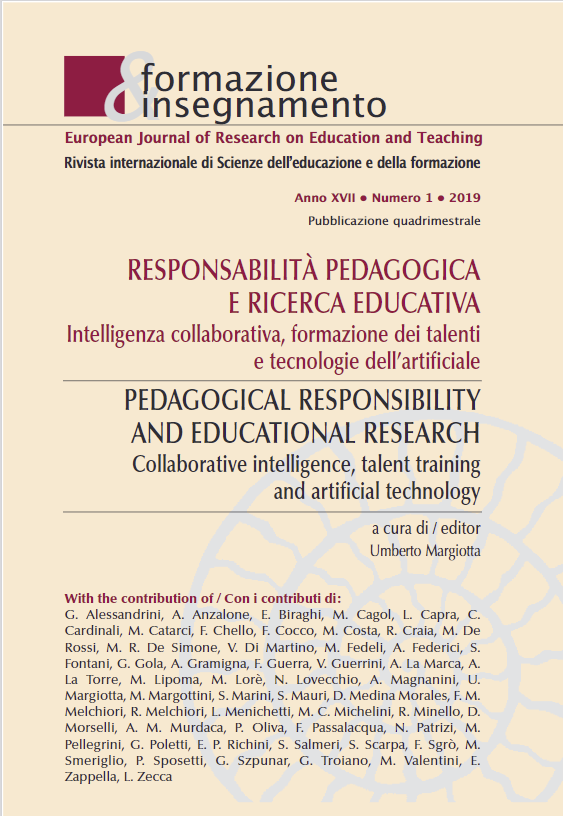 Downloads
How to Cite
Valentini, M. (2019). For a pedagogy of values. Formazione & Insegnamento, 17(1), 217–226. https://doi.org/10.7346/-fei-XVII-01-19_19
License
Copyright (c) 2019 Pensa MultiMedia
This work is licensed under a Creative Commons Attribution 4.0 International License.
Formazione & insegnamento is distributed under Attribution 4.0 International (CC BY 4.0).
For further details, please refer to our Repository & Archiving Policy, as well as our Copyright & Licensing Terms.