Growth and learning through body in movement
Abstract
Motor activity during the growth of a child is an essential instrument for
both the body as well as the soul. Many studies have shown how movement
creates relations with the environment and with others, how movement expresses
self and emotions, how identity is formed, how risks of metabolic
and cardiovascular illnesses are reduced and how movement helps to develop
the cognitive sphere. Keeping in mind these considerations we can
ask the question: how much does physical activity influence cognitive capacity
and how much does it support school performance? In this paper we
try to provide an answer in support of the concept that movement is
change, growth and life!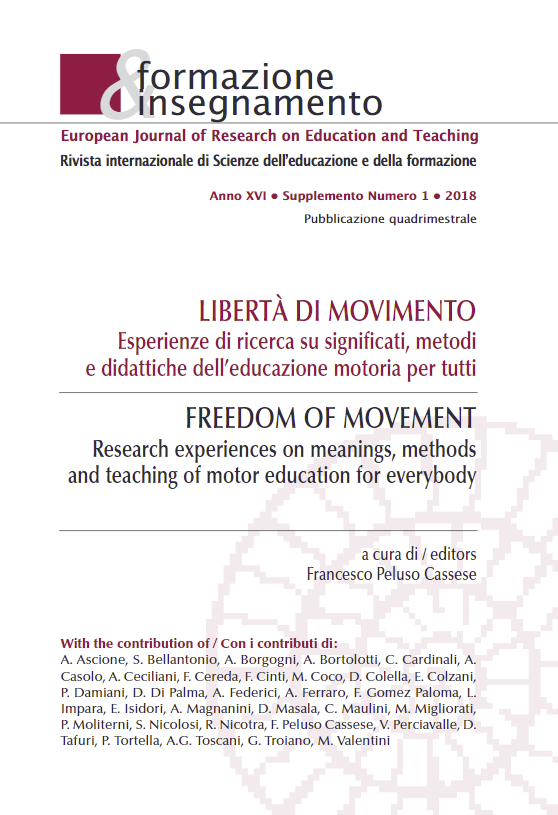 Downloads
How to Cite
Valentini, M., Cinti, F., & Troiano, G. (2018). Growth and learning through body in movement. Formazione & Insegnamento, 16(1 Suppl.), 149–162. Retrieved from https://ojs.pensamultimedia.it/index.php/siref/article/view/2771
License
Copyright (c) 2018 Manuela Valentini, Francesca Cinti, Giovanna Troiano
This work is licensed under a Creative Commons Attribution 4.0 International License.
Formazione & insegnamento is distributed under Attribution 4.0 International (CC BY 4.0).
For further details, please refer to our Repository & Archiving Policy, as well as our Copyright & Licensing Terms.