The assessment of didactic: the enjoyment of physical activity according to cooperative approach
Abstract
Cooperative Learning is an educational approach in which students work together in small groups to achieve common goals, trying to reciprocally improve their skills and knowledge. This method is distinguished from both competitive learning and individual learning and could be applied to every task, subject and curriculum. In the cooperative work teams, students are engaged in common activity and become protagonists of all phases of their task (from planning to evaluation) while the teacher play a role as a facilitator/manager for the comprehension of the general aim and modulator of the activities. Our verified the application of methodological approach not-centered on the exhausting research of the performance and not-organized on the traditional repetitive modulation of skills/sports disciplines. The enjoyment grade of the physical education lesson become the cut-off to define the real implication/ pleasure of the cooperative learning in gym context. Our results showed a clear improvement of the enjoyment during the activity.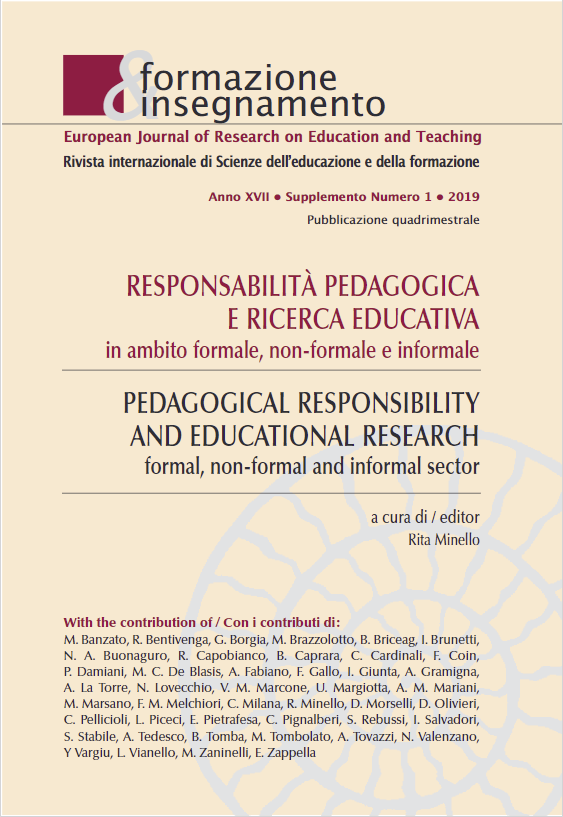 Downloads
How to Cite
Pellicioli, C., Rebussi, S., La Torre, A., Zaninelli, M., & Lovecchio, N. (2019). The assessment of didactic: the enjoyment of physical activity according to cooperative approach. Formazione & Insegnamento, 17(1 Suppl.), 165–176. Retrieved from https://ojs.pensamultimedia.it/index.php/siref/article/view/3319
License
Copyright (c) 2019 Pensa MultiMedia
This work is licensed under a Creative Commons Attribution 4.0 International License.
Formazione & insegnamento is distributed under Attribution 4.0 International (CC BY 4.0).
For further details, please refer to our Repository & Archiving Policy, as well as our Copyright & Licensing Terms.