Bodily comunication and motor control in behaviorist vision
Abstract
The body communication in processes of qualitative analysis of sport performance is a field of research a little bit explored. It may be useful to approach the study trying to identify and analyze the possible implications on motor control and learning. It might be useful for analyzing the performance of the athlete identify, explain, argue and finally justify the specific contribution of the body communication on the determination of the partial and final results according to motor control theory. The aim of this theoretical study is to describe and possibly to argue the implications inherent in the empirical results of the study of body communication. Significant elements of Closed loop of motor control are two, the first is the perceptual trace, ie a warehouse full of information concerning the sensory perceptions that the brain must receive to be considered a given proper movement. The second is the memory trace
that forms the mental representation. It has the task of keeping under control the submoviments and make any corrections in case of error in execution. The motor program is then to be an abstract representation of the sequence of action. Important, but not to overestimate, is the response time to the
stimulus: the reaction time. It, in fact, is not standard, but may vary not only because of the problems to which a subject may be suffering, but also by the complexity of the action that is requested to perform.
In conclusion, the situation of fast sports as well as the volleyball can not be answered with a paradigmatic model with error correction because it is too fast, therefore, in a behaviorist vision, has an explanation in the motor control model open circuit.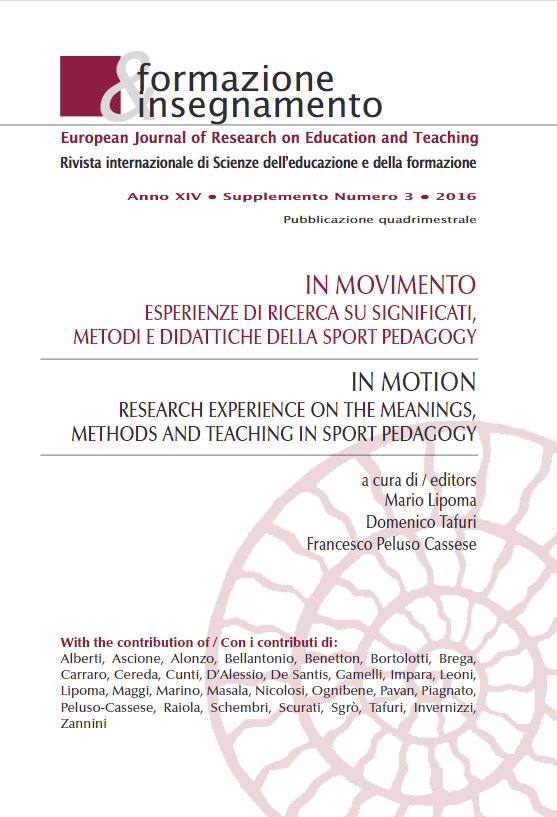 Downloads
How to Cite
Raiola, G., Ascione, A., & Tafuri, D. (2017). Bodily comunication and motor control in behaviorist vision. Formazione & Insegnamento, 14(3 Suppl.), 93–100. Retrieved from https://ojs.pensamultimedia.it/index.php/siref/article/view/2086