Motor activity in kindergarten
Keywords:
School, Physical Activity, Learning Environment, Didactics Laboratory
Abstract
An accurate analysis of modern society and consequently of all that is needed to succeed in the difficult formation of the child who will be the adult of the future, cannot fail to take into consideration the school, and consequently the intrinsic properties of the motor activity and therefore of the motor science as a supporting discipline for the acquisition of correct lifestyles and a healthy sports education. The educational institution must respond to three fundamental aspects of school life, and consequently, social: knowing, knowing how to do, knowing how to be. Three points that are fully revised in concept such as knowledge, skills and attitudes. Therefore, from a social, pedagogical and psychological point of view it is necessary that in the contexts of cultural and social life, such as school, well-structured learning environments are created. The idea of the teacher as a source of absolute knowledge must no longer be accepted, but the student with his needs must be placed at the center of the
learning process, therefore also the physical objects that make up the environment in which the moment occurs. learning, must change. The idea of the chair as a means for the teacher to express his authority, and the pupils' desks as a symbol of lack of knowledge, must be abandoned in favor of a type of didactic activity that is cooperative, motivating, socializing and that takes into account the emotional aspects of the learners.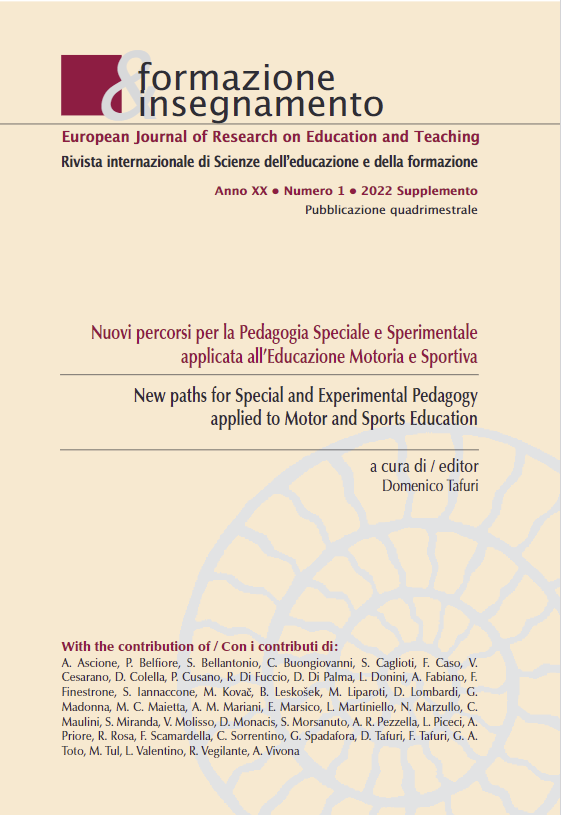 Downloads
How to Cite
Ascione, A. (2022). Motor activity in kindergarten. Formazione & Insegnamento, 20(1 Suppl.), 048–062. https://doi.org/10.7346/-feis-XX-01-22_05
License
Copyright (c) 2022 Pensa MultiMedia
This work is licensed under a Creative Commons Attribution 4.0 International License.
Formazione & insegnamento is distributed under Attribution 4.0 International (CC BY 4.0).
For further details, please refer to our Repository & Archiving Policy, as well as our Copyright & Licensing Terms.