Sport as a compensatory and educational element in specific learning disorders
Keywords:
SLD, Sport, Physical activity, Learning, Teaching, Training, Dispensatory measures, Compensatory instruments
Abstract
In the educational field it is not possible to recognize a linearity in the learning process rather, generally, there are variegated and punctuated needs and modalities. In this context, Specific Learning Disorders (SLD) outline, by virtue of their distinct and precise identity, peculiar and specific training paths through the definition and identification of needs and requirements. DSAs are in fact defined as a difficulty in acquiring some particular skills or abilities that partly interfere in the learning process itself, and which manifest themselves with problems in the use of reading, writing and calculating, known respectively as Dyslexia, Dysgraphia, Dysorthography and Dyscalculia. The educational and educational areas have the task of satisfying the needs and requirements of all, in order to allow everyone to participate in social and community life and to acquire skills in the most active, autonomous and valid way possible. The approach to the issue of SLDs within the sporting dimension is a particularly important element, as it allows the subject to acquire greater autonomy, independence and self-determination. Sport, through its characteristics, provides adequate support to different needs, putting in place all actions aimed at guaranteeing reception, mediation and inclusion. The experience perceived and experienced through motor activity constitutes the opportunity to rediscover one's abilities, to redefine and implement a more defined and effective training and educational path.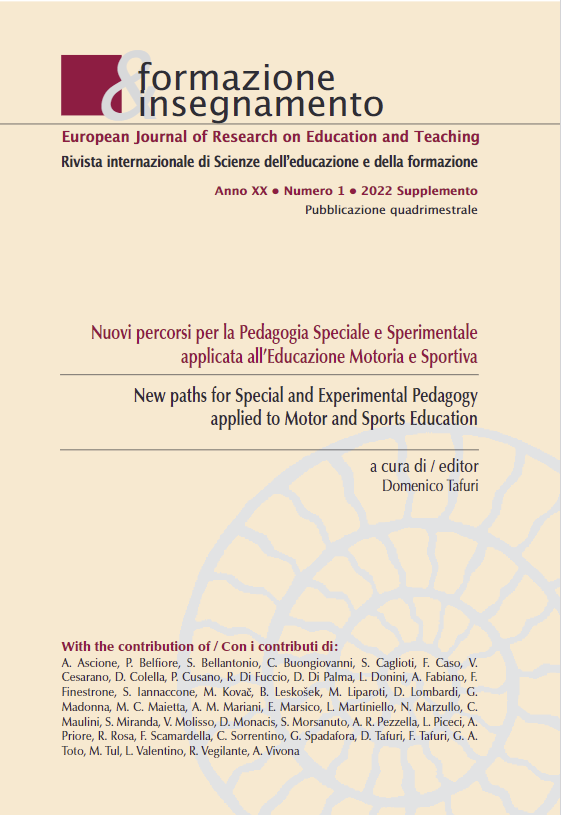 Downloads
How to Cite
Molisso, V., & Tafuri, D. (2022). Sport as a compensatory and educational element in specific learning disorders. Formazione & Insegnamento, 20(1 Suppl.), 230–239. https://doi.org/10.7346/-feis-XX-01-22_20
License
Copyright (c) 2022 Pensa MultiMedia
This work is licensed under a Creative Commons Attribution 4.0 International License.
Formazione & insegnamento is distributed under Attribution 4.0 International (CC BY 4.0).
For further details, please refer to our Repository & Archiving Policy, as well as our Copyright & Licensing Terms.