Capabilities Welfare: Educational Response to Challenge Post-pandemic Poverties
Keywords:
Poverty, Generative welfare, Human development, Educational and cultural poverty, Capability
Abstract
The pandemic situation has fueled numerous debates and reflections not only in the health but also in the educational field. The period of multiple crisis we are going through shows with increasingly clear scientific evidence that the welfare paradigm is no longer able to offer adequate responses to the new post-pandemic challenges. It is necessary to formulate other possible models such as generative welfare and the welfare of capabilities, aware that these transformations we are going through must be supported by didactic approaches different from those used up to now. Putting educational and planning co-responsibility back at the center becomes the sine qua non for taking advantage of this period of crisis and transform it in a period of opportunity.
References
Alcamo, G. (2018). Educare all'«umanesimo solidale» per nuovi stili di vita. Milano: Paoline.
Alessandrini, G. (2014). La "pedagogia" di Martha Nussbaum. Milano: FrancoAngeli.
CIOFS Scuola FMA (2019). Didattica della solidarietà. Milano: FrancoAngeli.
Finizio, M. (2005). Diedi discorsi sul welfare. Soveria Mannelli: Rubbettino.
Ghedin, E. (2017). Felici di conoscere. Napoli: Liguori.
ISTAT (2019). Prefazione Rapporto SDGs 2019, Informazioni statistiche per l'Agenda 2030 in Italia, Roma. Disponibile in: https://www.istat.it/it/files/2019/04/SDGs_2019.pdf, ultima consultazione 18 agosto 2021.
Morin, E. (2001). I sette saperi necessari all'educazione del futuro. Milano: Raffaello Cortina.
Nussbaum, M. (2001). Diventare persone. Donne e universalità dei diritti. Bologna: Il Mulino.
Nuzzaci, A. (2020). Lifelong Lifewide Learning, 17, 36, 76-92.
Surowiecki, J. (2004). The wisdom of Crowds. London: Abacus.
Tiozzo Brasiola, O. (2021). La form-azione generativa: mediatore dello Human Development Approach. Formazione & Insegnamento, XIX, 1, 580-586.
Toffler, A. (1980). The Third Wave. New York: Bantam Books.
Vecchiato, T. (2018). La lotta alla povertà: con quali soluzioni di welfare? Padova: Fondazione Zancan.
Zamagni, S. (2007). L'economia del bene comune. Roma: Città Nuova Editrice.
Zorzi, E. (2020). L'insegnante improvvisatore. Napoli: Liguori Editore.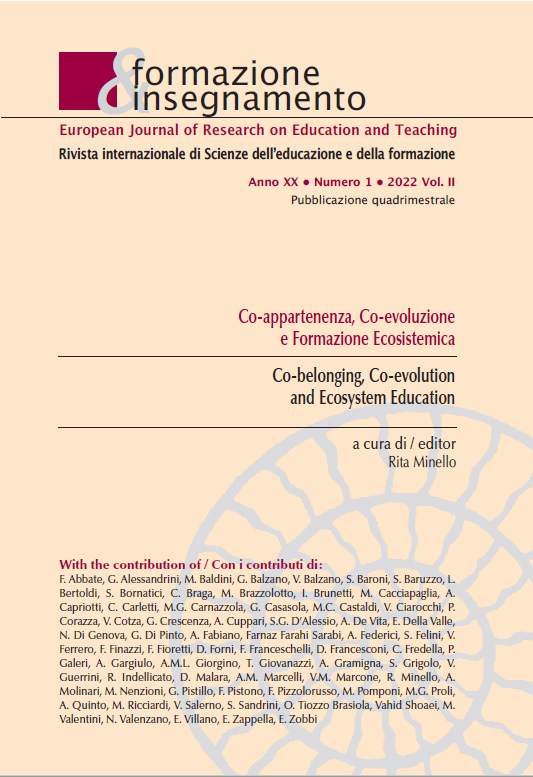 Downloads
License
Copyright (c) 2022 Oscar Tiozzo Brasiola, Sara Baruzzo
This work is licensed under a Creative Commons Attribution 4.0 International License.
Authors that publish in Formazione & insegnamento accept the following conditions:
Authors keep their copy rights for their work and give the journal only the right of first publication and distribution of it. Concurrently, the work is licensed under Attribution 4.0 International (CC BY 4.0), which allows others to share their work porovided they attribute it to their original author and acknowledge its first appearance in this journal.
Authors might engage in other licensing agreements, provided such agreements are 

non exclusive

regarding the distribution of the published work (e.g., place a copy in a physical institutional repository, or publish it in a book). In this case, the authors must acknowledge in the new version of the work that it was first published on this journal.
Authors may distribute their accepted manuscripts (pre-print) online (e.g., online repositories, personal website) during the publication process. This is allowed because it is the source of informed exchange with peers and increases the value of the published work. Please be aware that the distribution and dissemination to peer and through archives does not constitute a "publication" in a volume belonging to a series (ISSN): Formazione & insegnamento publishes previously unpublished works.