Models of giftedness and talent development: the gifted children
Abstract
General reference to giftedness has evolved over time from mechanically considering the mere performance of IQ to definitions that include traits such as specific cognitive abilities, creativity, task engagement, motivation to success, leadership potential, and even psychomotor skills (Marland, 1972).
Actually gifted children often find themselves having to face specific problems with socialization and emotional development, especially when school needs are poorly combined with the educational environment.
Many scholars have proposed various ways in which parents, teachers and counselors can work together to offer educational and emotional support systems to gifted children. These include the provision of qualitatively differentiated education, training those who work with gifted children,
recognizing the variability that exists between these youngsters, helping them to develop mechanisms to cope, both intellectually and emotionally, with the challenges of life.
In this paper, the models of giftedness and talent development are analyzed, from Renzulli (1976) to Tannenbaum (1983) up and especially to Gagné (1985, 2009). In particular, Gagné DMGT model offers valid contributions both for a better understanding of giftedness and for the educational proposals towards gifted children, so that not only can they realize their talents, but also
overcome the problems connected with their giftedness.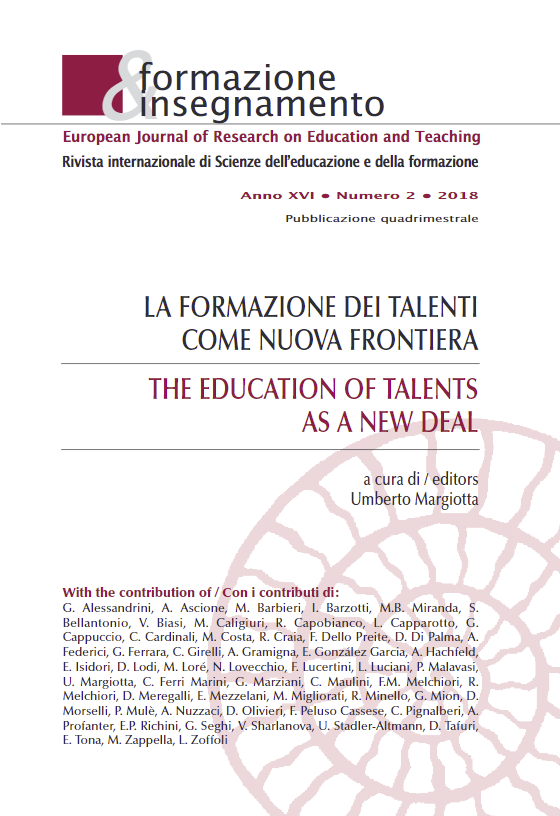 Downloads
How to Cite
Olivieri, D. (2018). Models of giftedness and talent development: the gifted children. Formazione & Insegnamento, 16(2), 153–172. Retrieved from https://ojs.pensamultimedia.it/index.php/siref/article/view/2935
License
Copyright (c) 2018 Diana Olivieri
This work is licensed under a Creative Commons Attribution 4.0 International License.
Formazione & insegnamento is distributed under Attribution 4.0 International (CC BY 4.0).
For further details, please refer to our Repository & Archiving Policy, as well as our Copyright & Licensing Terms.