Mind, brain, education: the dynamic "force" of intelligence
Abstract
Developing learning objectives that reflect the idea that intelligence is constituted by an expandable repertoire of abilities, and that therefore it is possible, through personal efforts, to make it increase in an incremental way, is the pedagogic imperative of the XXI century.
In fact, intelligence or "adaptive behaviour" is connected to cognitive modifiability and plasticity, which finds a solid neuroscientific base in the ecological plasticity of the brain.
Drawing on the idea of intelligence as a modifiable entity, a force that drives the organism to change itself, by sustaining the possibility of teaching intelligence and that human beings may continue to improve their cognitive functioning up to the end of their days, Feuerstein method not only lines up to neuroscientific research, but straight to the laws of Physics.
Passing from the analogy that mechanical physics allows us to make among a conception of intelligence as dynamic agent and the physical concept of oscillatory motion, it is possible to come to define intelligence as a physical force able to maximize the future liberty of action, conducting the individual system toward the best of the possible futures.
A new pedagogical culture, calling itself to the new methods of cognitive enrichment, to educational neuroscience and incredibly to the laws of physics, emphasizes how academic results and critical thinking must constitute two indispensable outcomes of learning today, for whatever age group.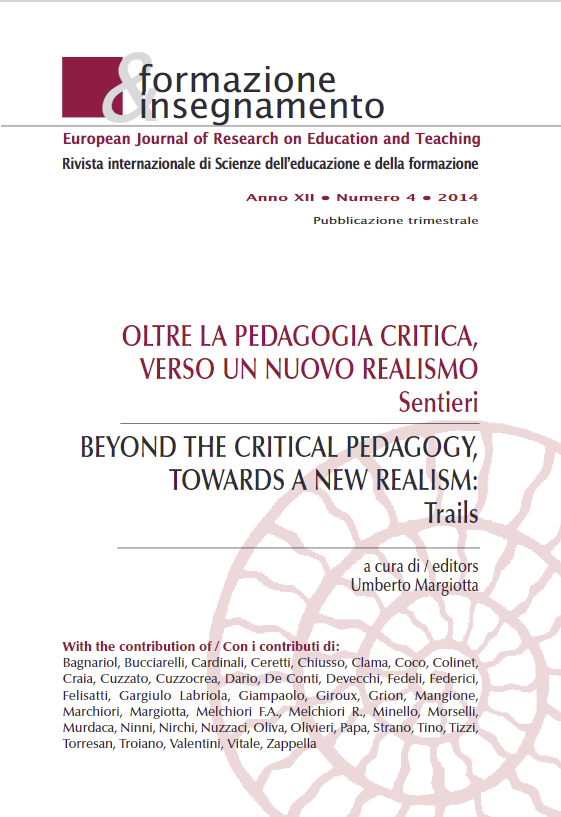 Downloads
How to Cite
Olivieri, D. (2014). Mind, brain, education: the dynamic "force" of intelligence. Formazione & Insegnamento, 12(4), 123–142. Retrieved from https://ojs.pensamultimedia.it/index.php/siref/article/view/1616
License
Copyright (c) 2014 Diana Olivieri
This work is licensed under a Creative Commons Attribution 4.0 International License.
Formazione & insegnamento is distributed under Attribution 4.0 International (CC BY 4.0).
For further details, please refer to our Repository & Archiving Policy, as well as our Copyright & Licensing Terms.