The enhancement of the potential of physical and sports education in the Italian school: the case of "Cremona's States General of Sport"
Abstract
The purpose of our study is to investigate the way educational practitioners perceive critical issues and barriers related to the teaching of physical and sports education in primary and secondary school. To carry out this study, we have used a qualitative research methodology based on the content analysis of documents obtained from a focus group conducted with educational practitioners, people, and institutions dealing with primary
and secondary education. In particular, the practitioners and representatives were teachers, principals, volunteers from sports associations, municipal government and from the Territorial School Office of the City of Cremona, Italy, who have been involved in the project "Mi gioco la possibilità - ExSportAbile - Lo sport inclusivo a Cremona". The results from the study show that there exist critical issues relating to the perception of physical activity and sports education by the participants in the focus group. Moreover, at the same time,
the results highlight the possibility of using new means and strategies for the enhancement of educational potentials of physical and sport education in school.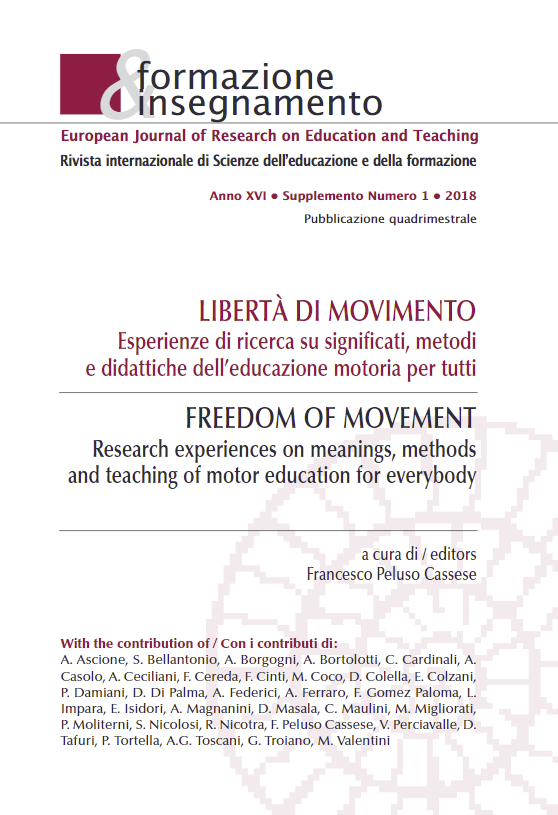 Downloads
How to Cite
Maulini, C., Migliorati, M., & Isidori, E. (2018). The enhancement of the potential of physical and sports education in the Italian school: the case of "Cremona's States General of Sport". Formazione & Insegnamento, 16(1 Suppl.), 135–148. Retrieved from https://ojs.pensamultimedia.it/index.php/siref/article/view/2770
License
Copyright (c) 2018 Claudia Maulini, Mascia Migliorati, Emanuele Isidori
This work is licensed under a Creative Commons Attribution 4.0 International License.
Formazione & insegnamento is distributed under Attribution 4.0 International (CC BY 4.0).
For further details, please refer to our Repository & Archiving Policy, as well as our Copyright & Licensing Terms.