The Oratory today, a bridge possible between formal and informal education. Pillars of education according to the Delors Report in the hermeneutic and ecological oratory hypothesis
Abstract
A great deal of incitements for pedagogical research is the UNESCO Report Learning: The Treasure Within of 1996 that, after twenty years of its elaboration, today still interrogates research and studies in educational and training in postmodern and globalized societies. Among the topics dealt with education-democracy is presented as one of the decisive knots of education policies
globally. From 1996 to today, the educational and relational forms of informal and non-formal nature have multiplied, as well as a progressive disorientation of institutional formation modalities.
In the vast spectrum of non-formal educational practices, the oratory is an original path: the oratory as a "total" educational environment, open to all young people, without distinction of class, culture, society (Braido, 1962, p. 156). The oratory is a bridge between formal and informal, in which learning to know, learning to do, learning to live together and learning to be are the
condicio sine qua non of an educational planning embodied in a "vision that emphasizes the development of the person in its entirety" (Delors, 1996, p. 80). In this paper we have tried to trace the intersection between the formal, informal and informal in the oratory context, those elements of innovation and continuity which can be true places of welfare (Clarizia, 2014), complementary
to the school context, designed and experiences as genuine and shared spaces of meaning and reciprocity.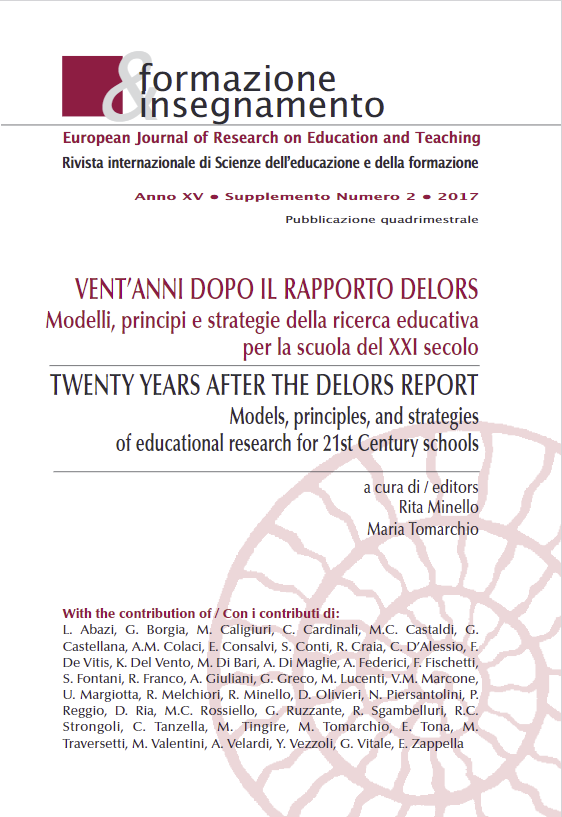 Downloads
How to Cite
Castaldi, M. C. (2017). The Oratory today, a bridge possible between formal and informal education. Pillars of education according to the Delors Report in the hermeneutic and ecological oratory hypothesis. Formazione & Insegnamento, 15(2 Suppl.), 375–380. Retrieved from https://ojs.pensamultimedia.it/index.php/siref/article/view/2611
License
Copyright (c) 2017 Maria Chiara Castaldi
This work is licensed under a Creative Commons Attribution 4.0 International License.
Formazione & insegnamento is distributed under Attribution 4.0 International (CC BY 4.0).
For further details, please refer to our Repository & Archiving Policy, as well as our Copyright & Licensing Terms.