The school-family relationship in the post-COVID 19 school community: towards a necessary pedagogical rewriting
Abstract
The Covid-19 pandemic has profoundly marked the educational contexts in particular the family and school. Faced with this critical situation, pedagogical reflection must turn the attention of formal and informal educational planning to some key words with a profound formative meening, such as cooperation, care, relationship. Due to the unprecedented upheavals that distance learning has brought about in the dynamics of communication and teaching/learning processes, even the school-family relationship requires a pedagogical rewriting that goes beyond the logic of bureaucracy and evaluation. It is necessary to enhance dialogue and the educational co-responsibility of the educating community, to promote the formation of social skills, empathic sensitivity and human solidarity.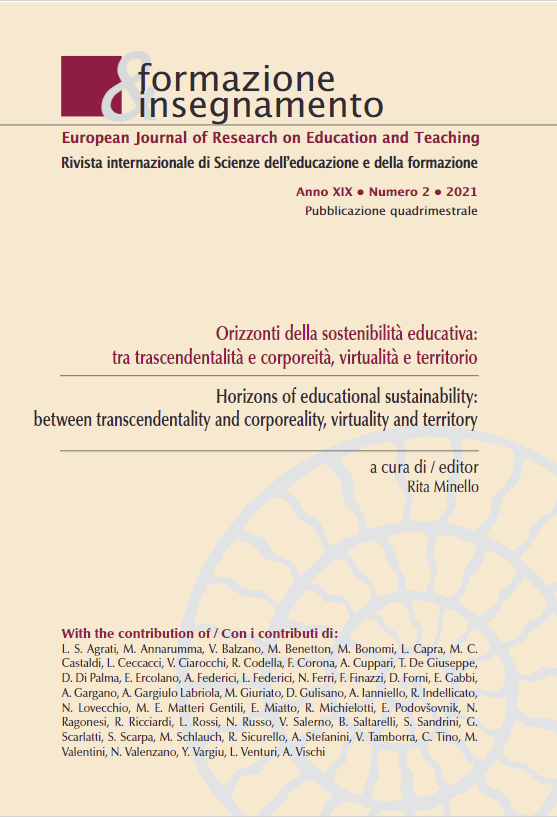 Downloads
How to Cite
Castaldi, M. C. . (2021). The school-family relationship in the post-COVID 19 school community: towards a necessary pedagogical rewriting. Formazione & Insegnamento, 19(2), 205–210. https://doi.org/10.7346/-fei-XIX-02-21_19
License
Copyright (c) 2021 Pensa MultiMedia
This work is licensed under a Creative Commons Attribution 4.0 International License.
Formazione & insegnamento is distributed under Attribution 4.0 International (CC BY 4.0).
For further details, please refer to our Repository & Archiving Policy, as well as our Copyright & Licensing Terms.