Grow in motion
Abstract
Physical activity in the evolutional age contributes to form teach and communicate.
A discipline that brings together not only the idea of movement
but becomes the motivational aspect for the learning not only educational
for the future of man and citizen it is a discipline that has a dedicated crossing
capable of coordinating with the other subjects in the interdisciplinary
perspective. It emphasizes also the state of well-being psychophysical and
importance of nutrition. One should look at the school system in Finland
for space, professional figures and for the internal organization that characterizes,
it is an example, a school system in terms of Alternative Research of
Movement. As society that goes towards change, it cannot hold against the
school that in it is time now must not only undergo changes but it must be
a propulsive force of change, because our schools holds the future for all.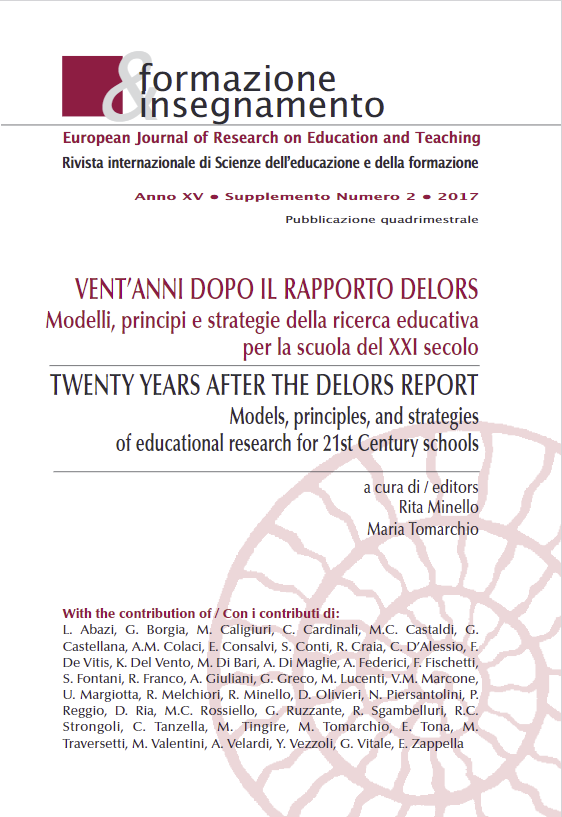 Downloads
How to Cite
Valentini, M., Piersantolini, N., & Federici, A. (2017). Grow in motion. Formazione & Insegnamento, 15(2 Suppl.), 193–210. Retrieved from https://ojs.pensamultimedia.it/index.php/siref/article/view/2593
License
Copyright (c) 2017 Manuela Valentini, Nicoletta Piersantolini, Ario Federici
This work is licensed under a Creative Commons Attribution 4.0 International License.
Formazione & insegnamento is distributed under Attribution 4.0 International (CC BY 4.0).
For further details, please refer to our Repository & Archiving Policy, as well as our Copyright & Licensing Terms.