Book smart-Street smart: Not contrast anymore, but encounter and valorization of talents in the new school
Abstract
If with Multiple Intelligences Gardner (1983) theorizes the concept that there are
many types of intelligence and not a single one, it is with Sternberg (1985) that
the concept of practical intelligence is clearly highlighted, in which we can insert
the so-called street intelligence, the one that lets you handle it in your life.
Up to now, only the linguistic-literary and logical-mathematical intelligences
have been emphasized at school, creating a sort of contrast between book smart
and street smart.
Starting from the idea, according to which every student (not just someone)
owns talents, diversified on the basis of various types of intelligence, a gift that
must be recognized and cultivated since childhood in order to become excellence, it will be necessary to include in the new school also the so-called street talent or street intelligence.
Especially in today's 21st century society, with the Generation Y's Millennials, it
is important to enhance the talents of all students. According to Margiotta (1997) and me, this will be possible by identifying their cognitive profile to work on, using the most recent results of neuroscientific research. With the consequent benefit of the exchange between school culture on the one hand, and popular culture on the other.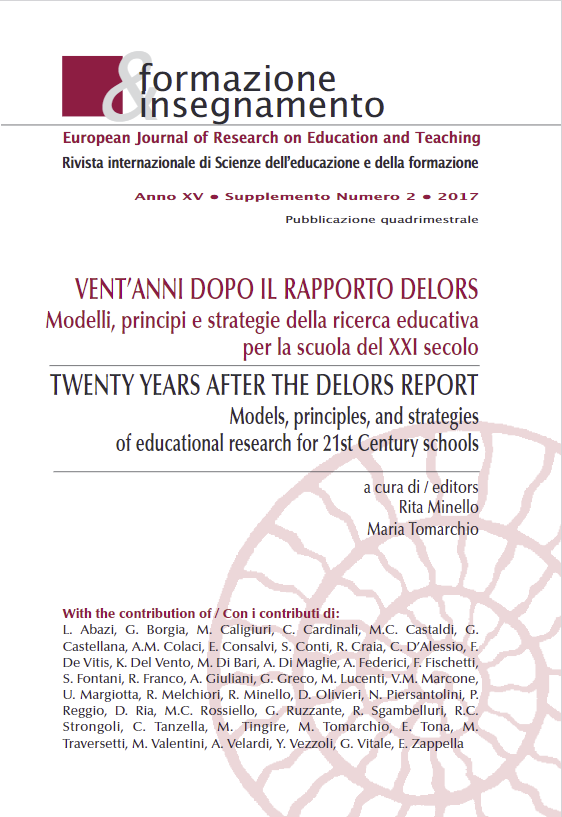 Downloads
How to Cite
Olivieri, D. (2017). Book smart-Street smart: Not contrast anymore, but encounter and valorization of talents in the new school. Formazione & Insegnamento, 15(2 Suppl.), 171–184. Retrieved from https://ojs.pensamultimedia.it/index.php/siref/article/view/2591
License
Copyright (c) 2017 Diana Olivieri
This work is licensed under a Creative Commons Attribution 4.0 International License.
Formazione & insegnamento is distributed under Attribution 4.0 International (CC BY 4.0).
For further details, please refer to our Repository & Archiving Policy, as well as our Copyright & Licensing Terms.