The entrepreneurial laboratory for teacher training in enterprise education
Abstract
This paper examines a current European Marie Curie project on in service teacher training in enterprise education. It begins with an overview of the current debate in Europe on entrepreneurship education. It presents expansive learning as suitable learning theory to underpin entrepreneurship education through the entrepreneurial laboratory workshops, a variation of the change laboratory for enterprise education. The paper introduces the empirical component of the research which is to be carried out in a technical institute in
Italy. The major challenge facing the upper secondary vocational schools in Italy is the implementation of 400 hours' work experience, and this challenge will be employed in the entrepreneurial laboratory workshops with teachers. It is argued that by participating in the workshops the teachers will gain agency and become entrepreneurial in the way they implement enterprise education with their students. Moreover, in order to trigger deep transformation of school and work interactions and enterprise education with consequent in-class pedagogies, the entrepreneurial laboratory will have to make use of special second stimuli, such as the work-to-school relationship, and the model of connective pedagogy.
The paper concludes by describing how learning outcomes will be measured in students.
Enterprise education should be based on pedagogies aimed at connecting school
with industry, as well as on teachers who teach around principles and open questions.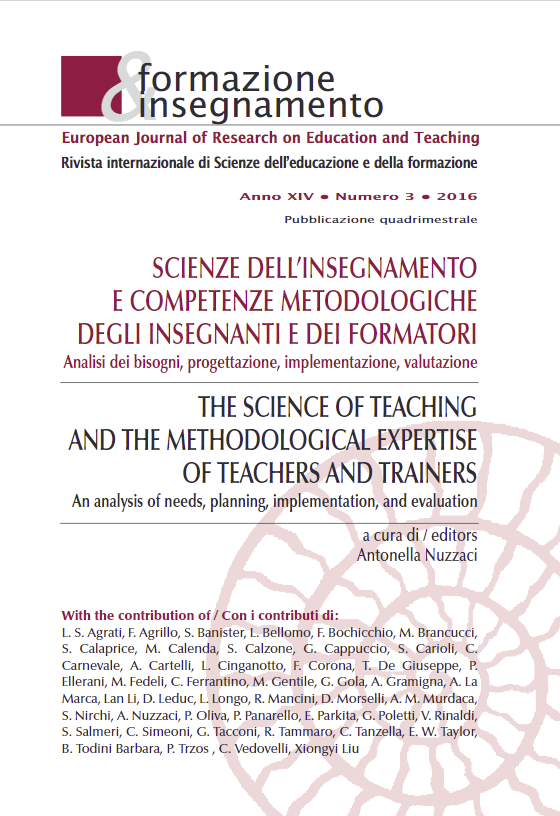 Downloads
How to Cite
Morselli, D. (2017). The entrepreneurial laboratory for teacher training in enterprise education. Formazione & Insegnamento, 14(3), 73–88. Retrieved from https://ojs.pensamultimedia.it/index.php/siref/article/view/2043