Per una didattica interculturale e una filosofia dell'integrazione tra Scuola e Sanità. Studio di caso: la cooperazione tra Università degli Studi di Bari "Aldo Moro", l'Ordine dei Medici di Bari e l'Istituto Professionale "De Lilla" di Conversano (Bari)
Abstract
Il presente contributo tratta di un'esperienza di didattica interculturale che ha visto coinvolti, nell'ottica di un sistema formativo integrato, Scuola, Università e Ordine dei Medici, con l'obiettivo di promuovere un'esperienza di ricerca-azione, a cui hanno partecipato alunni di una scuola secondaria e
medici di medicina generale, volta a saggiare il grado di integrazione sociale
e sanitaria degli immigrati nel contesto sociale italiano.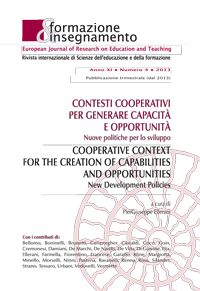 Downloads
How to Cite
Renna, P. (2013). Per una didattica interculturale e una filosofia dell'integrazione tra Scuola e Sanità. Studio di caso: la cooperazione tra Università degli Studi di Bari "Aldo Moro", l'Ordine dei Medici di Bari e l'Istituto Professionale "De Lilla" di Conversano (Bari). Formazione & Insegnamento, 11(4), 247–257. Retrieved from https://ojs.pensamultimedia.it/index.php/siref/article/view/411
License
Copyright (c) 2013 Pasquale Renna
This work is licensed under a Creative Commons Attribution 4.0 International License.
Formazione & insegnamento is distributed under Attribution 4.0 International (CC BY 4.0).
For further details, please refer to our Repository & Archiving Policy, as well as our Copyright & Licensing Terms.