Il farsi dello sviluppo professionale docente nell'orizzonte del learnfare
Abstract
Il presente articolo propone una riflessione sullo sviluppo professionale dell'insegnante in Italia, cercando di andare verso un ampliamento di prospettiva del farsi di questa professione, alle soglie del decisivo passaggio verso un sistema di learnfare. In quest'ottica, l'articolo propone di riflettere sulle dinamiche di correlazione tra le aree di attivazione dello sviluppo professionale docente e gli elementi costitutivi dei processi organizzativi scolastici, al fine di capire come questi elementi possano divenire ulteriore occasione di sviluppo professionale per gli insegnanti, in un nuovo orizzonte di costruzione identitaria professionale, che vada oltre le competenze e verso le capacitazioni.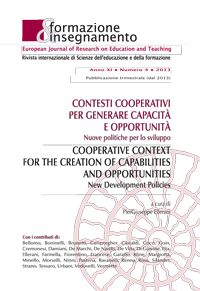 Downloads
How to Cite
Strano, A. (2013). Il farsi dello sviluppo professionale docente nell'orizzonte del learnfare. Formazione & Insegnamento, 11(4), 145–152. Retrieved from https://ojs.pensamultimedia.it/index.php/siref/article/view/397
License
Copyright (c) 2013 Andrea Strano
This work is licensed under a Creative Commons Attribution 4.0 International License.
Formazione & insegnamento is distributed under Attribution 4.0 International (CC BY 4.0).
For further details, please refer to our Repository & Archiving Policy, as well as our Copyright & Licensing Terms.