A "Beautiful Mind": genius or SEN? A challenge for the improvement of teaching
Abstract
The article examines some meanings and impacts on the topic of the "talents" in the school, starting from the meaning of the curriculum's drafting for the talents in the light of the new paradigms (neurodevelopment and learning). The article also outlines a research-action proposal for the inclusion of a student with a "High-functioning Autism Spectrum Disorder", characterized by some areas of "genius", in a high-school context. This particular functioning of the student can be categorized both as Special Education Need and as "Gifted".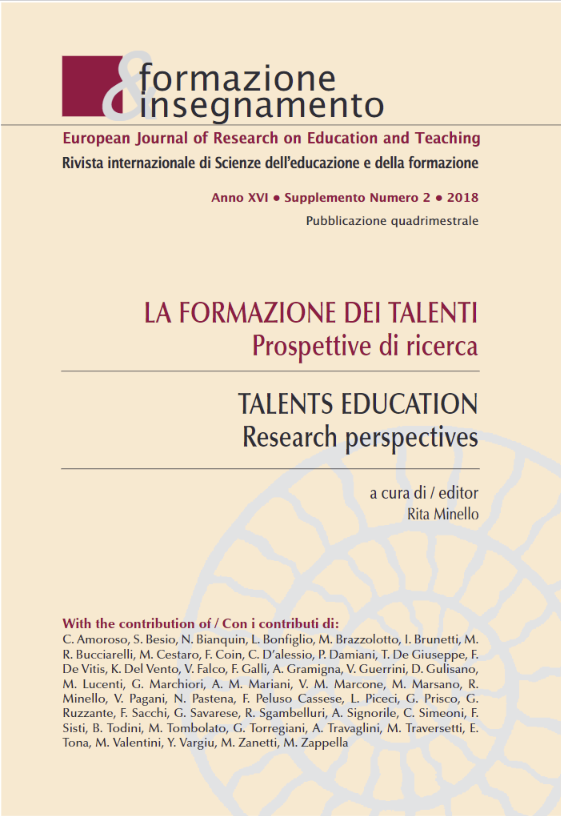 Downloads
How to Cite
Damiani, P. (2018). A "Beautiful Mind": genius or SEN? A challenge for the improvement of teaching. Formazione & Insegnamento, 16(2 Suppl.), 65–74. Retrieved from https://ojs.pensamultimedia.it/index.php/siref/article/view/3028
License
Copyright (c) 2018 Pensa MultiMedia
This work is licensed under a Creative Commons Attribution 4.0 International License.
Formazione & insegnamento is distributed under Attribution 4.0 International (CC BY 4.0).
For further details, please refer to our Repository & Archiving Policy, as well as our Copyright & Licensing Terms.