Integrated quali-quantitative teaching, in physical-sport education, and wellbeing in developmental age
Abstract
Physical and Sport Education is becoming more and more characterizedfor
a qualitative didactics that respond to the needs of children, thanks to the
contributions of the pedagogical sciences.
Starting from the school environment, the idea of an education through the
body and movement, with characteristics of pleasure, fun, cognitive and
emotional involvement, is also affecting sports environments.
The present contribution, according with the importance and necessity of
this qualitative approach, of Physical and Sport Education, highlightsthe
problem referred to the need to pay attention also to the quantitative approach
in response to the health problems that the current childhood generations
are highlighting, in particular, in the aerobic function.
After presenting a screening, on a sample of children aged elevenin the first
class of secondary school, which confirm the health problems just mentioned,
are defined some possible integrated strategies, qualitative and
quantitative, able to respond to the emerging wellbeing issues referred to
the developmental age.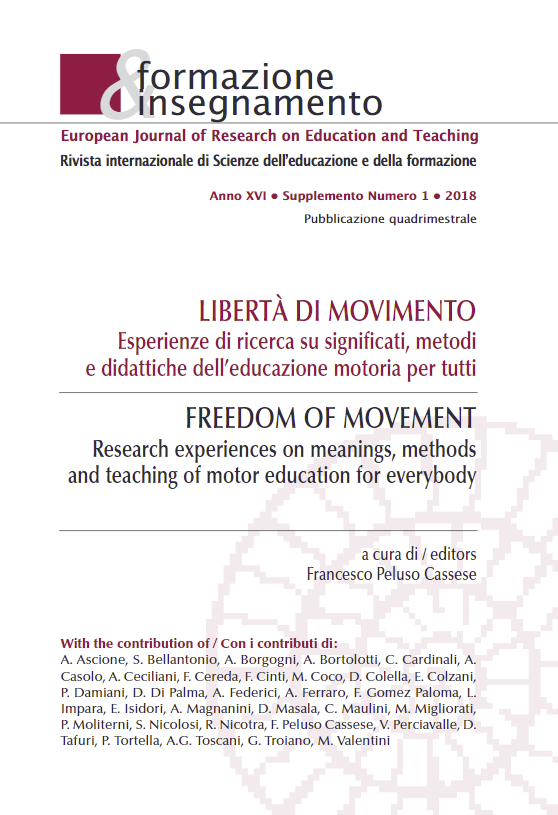 Downloads
How to Cite
Ceciliani, A. (2018). Integrated quali-quantitative teaching, in physical-sport education, and wellbeing in developmental age. Formazione & Insegnamento, 16(1 Suppl.), 183–194. Retrieved from https://ojs.pensamultimedia.it/index.php/siref/article/view/2774
License
Copyright (c) 2018 Andrea Ceciliani
This work is licensed under a Creative Commons Attribution 4.0 International License.
Formazione & insegnamento is distributed under Attribution 4.0 International (CC BY 4.0).
For further details, please refer to our Repository & Archiving Policy, as well as our Copyright & Licensing Terms.