Problemi e prospettive The Syllabus in motor and sports disciplines. Educational objectives and learning outcomes. Problems and perspectives
Abstract
Physical education, physical activities and sport, in Italian universities, are disciplinary areas present in the three-year degree courses in Sciences of motor and sports activities and in the two-year master's degree courses, following the training course of the former Higher Education Institutes Physics (I.S.E.F.).
The study plans of the degree courses provide a multi-inter-disciplinary structure in which there are, in particular, two scientific-didactic sectors, defined as basic and characterizing, called methods and didactic of motor activities and methods and didactic of sporting activities.
Within each sector there are different courses, each with its own disciplinary structure, educational values and epistemological constraints, peculiar re- search methodologies, characterizing the student's professional profile. The objectives of the following contribution concern a twofold perspective: to analyze the structure of the disciplinary sectors of motor and sports activities and of the related essential and characterizing contents; orient the definition of the Syllabus necessary to clearly define, for each course, the expected objectives and skills, contents and teaching methods, duration and evaluation methods, with particular reference to the competition sector called Didactics, Special Pedagogy and Educational Research (11D / 2), in order to share the educational process and the outgoing professional profile with students and stakeholders.
Here we present the essential contents of the teaching of Theory and Methodology of Human Movement, included in the ssd M-EDF / 01- Methods and Didactics of Motor Activities.
The relationships between scientific-disciplinary sectors and competition sectors, in Italy, constitute an essential and unavoidable junction to overcome any possible scientific and methodological antithesis, and to share and define the relationships between the themes of teaching and research, the strategies to promote the evolution of the student's outgoing knowledge and competencies.
The contribution stems from the need to define and share the core curriculum of the aforementioned scientific-disciplinary sectors in the didactic and pedagogical field, also identifying interdisciplinary relationships and research methodologies.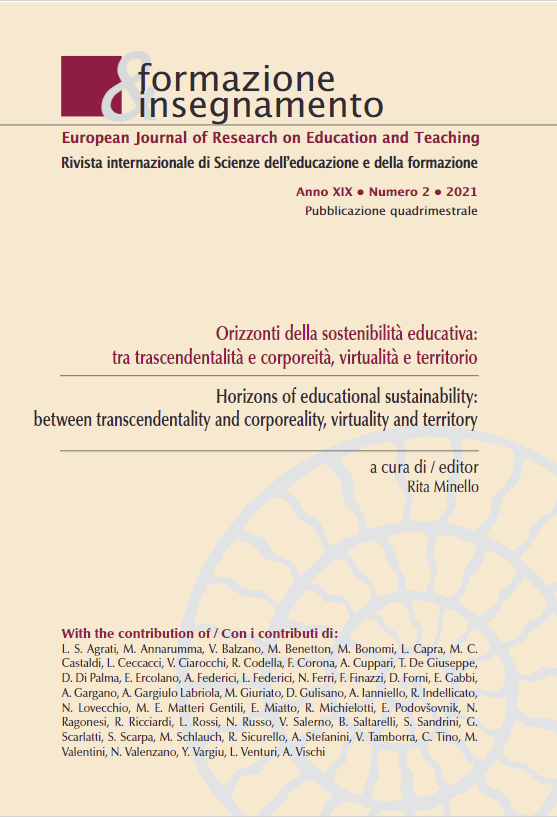 Downloads
How to Cite
Colella, D., Invernizzi, P., & Ceciliani, A. (2021). Problemi e prospettive The Syllabus in motor and sports disciplines. Educational objectives and learning outcomes. Problems and perspectives. Formazione & Insegnamento, 19(2), 377–393. https://doi.org/10.7346/-fei-XIX-02-21_34
License
Copyright (c) 2021 Pensa MultiMedia
This work is licensed under a Creative Commons Attribution 4.0 International License.
Formazione & insegnamento is distributed under Attribution 4.0 International (CC BY 4.0).
For further details, please refer to our Repository & Archiving Policy, as well as our Copyright & Licensing Terms.