Thinking and acting creatively: are we able to assess these two manifestations?
Abstract
Although creativity construct is as difficult to define as it is to measure, a complete theoretical comprehension is needed both for its use in different contexts and for its effect and impact evaluation. Present society seems to greatly compensate, not only economically, individuals, groups and organizations that can elaborate creative ideas in heterogeneous range environments. For this reason, Education and Training systems started to focus on developing creative potential as the key formative purpose. Subsequently, development of the creativity measurement methods has become a relevant demand to the scientific community of psychometrics experts in order to control creative trainings. Because of its nature, creativity concept is difficult
to assess by indicators that ensure predictive validity in respect of future individual performances. Moreover, research evidences show that creativity represent an unidimensional factor that assumes peculiar aspects in different contexts. In this perspective, the main aim of this paper becomes a description of the methodological guidelines for the construction and validation of creative potential psychological tests in innovative settings. In conclusion, a possible application related to physical- kinesthetic creativity is presented.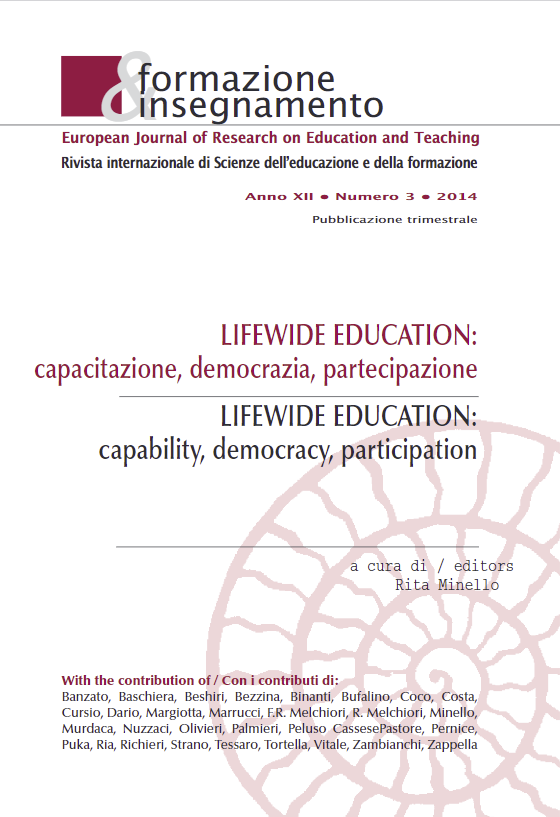 Downloads
How to Cite
Melchioni, F. M., & Peluso Cassese, F. (2014). Thinking and acting creatively: are we able to assess these two manifestations?. Formazione & Insegnamento, 12(3), 89–102. Retrieved from https://ojs.pensamultimedia.it/index.php/siref/article/view/1822
License
Copyright (c) 2014 Francesco Maria Melchioni, Francesco Peluso Cassese
This work is licensed under a Creative Commons Attribution 4.0 International License.
Formazione & insegnamento is distributed under Attribution 4.0 International (CC BY 4.0).
For further details, please refer to our Repository & Archiving Policy, as well as our Copyright & Licensing Terms.