Effectiveness of a 12-week extracurricular multilateral training on body image dissatisfaction and body-size self-perception among adolescents
Abstract
Purpose: The aim of the study was to investigate how multilateral, extra-curricular training, supplementary to the curricular Physical Education hours, can improve the self-perception of body image and reduce any dissatisfaction. Methods: 100 students (14-15 years) were assigned to the experimental group (MG; n=50; 25M, 25F) that has never been involved in extracurricular physical activity, or Active group (AG; n=50; 25M, 25F) practicing sports for at least 3 years. At baseline and after 12-week, anthropometric measurements and two standardized tests to assess the degree of personal satisfaction to-wards their body were administered (i.e., Body uneasiness test (BUT) and contour drawing rating scale (CDRS)). Results: After the intervention, signif-icant differences in the total MG for body weight (-1.36 ± 2.03 kg, p < 0.0001), BUT (-0.54 ± 1.49, p = 0.0320) and CDRS (-1.26±3.92, p=0.0366) scores were de-tected. Females of the MG showed significant improvement in body weight (-1.49 ± 2.22 kg, p = 0.0027) and BUT (-0.76 ± 1.56, p = 0.0398), whereas males showed improvement in body weight (-1.24 ± 1.85 kg, p = 0.0027) alone. AG showed no significant changes (p > 0.05). Conclusions: Findings suggest that multilateral training could increase body image satisfaction. However, girls always showed higher scores than boys and this indicates greater dissatis-faction and uneasiness with their bodies.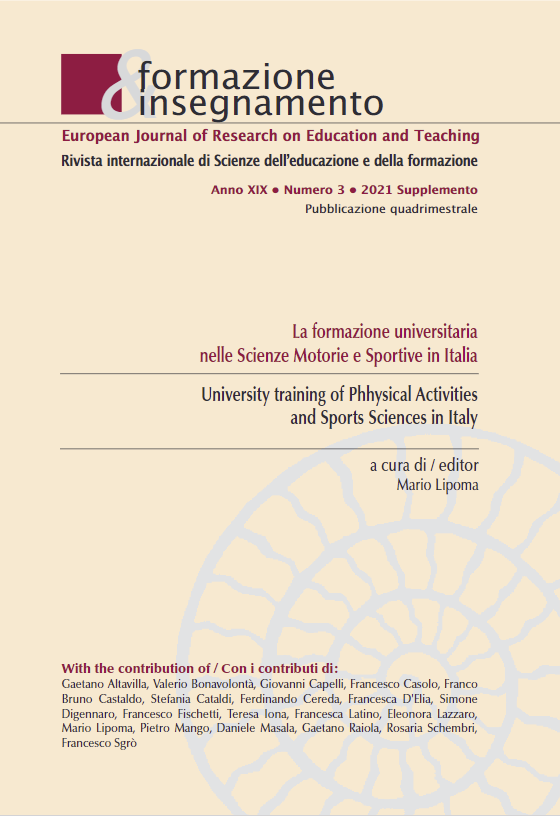 Downloads
How to Cite
Fischetti , F., Latino , F. ., Bonavolontà ,V., & Cataldi , S. . (2021). Effectiveness of a 12-week extracurricular multilateral training on body image dissatisfaction and body-size self-perception among adolescents. Formazione & Insegnamento, 19(3 Suppl.), 070–083. https://doi.org/10.7346/-feis-XIX-03-21_08
License
Copyright (c) 2022 Pensa MultiMedia
This work is licensed under a Creative Commons Attribution 4.0 International License.
Formazione & insegnamento is distributed under Attribution 4.0 International (CC BY 4.0).
For further details, please refer to our Repository & Archiving Policy, as well as our Copyright & Licensing Terms.