Long-term motor sports educational practice and active lifestyle: prevention of occupational stress in to Police and psychophysical well-being
Abstract
Purpose: The purpose of this study was to determine the effects of demographic and occupational characteristics,
anthropometric indices, lifestyle adopted and physical activity levels, free (leisure) or structured in the form of institutional
training (Physical Education), sources of Stress and coping strategies, and the perception of the state of
physical and mental health of the State Police of Puglia. Methods: The sample consists of 101 police officers (age
46.08 ± 5.66 years, weight 81.60 ± 14.04 kg, height 173.47 ± 6.14 cm) volunteers for this study. The Occupational Stress
Indicator and the Short Form-12 were used, along with a questionnaire of socio-demographic, occupational and anthropometric
data. Statistical analyzes were performed using descriptive analyzes followed by the analysis of multiple
linear regression with the stepwise method. The level of significance was set at p <0.05. Results: To follow an active
lifestyle, practicing motor sports or sports at any level, especially in institutional training environments (Physical
Education), can enable State Police operators to cope with stress by adequately increasing coping strategies. In addition,
the beneficial effects of active lifestyle on some sources of stress and perception of the physical health status
are mediated by some bio-anthropometric data, such as abdominal circumference, which inversely correlate
with the intensity and continuity of the sports motorcycle practice Structured and motivated. Conclusions: These
findings encourage Formation of the Order's Forces to adopt an institutional policy that allows police practitioners
to regularly attend Physical Education, Adapted Physical Education programs to their age and working characteristics
in order to maintain and improve their form Psycho-physical, performance and quality of life.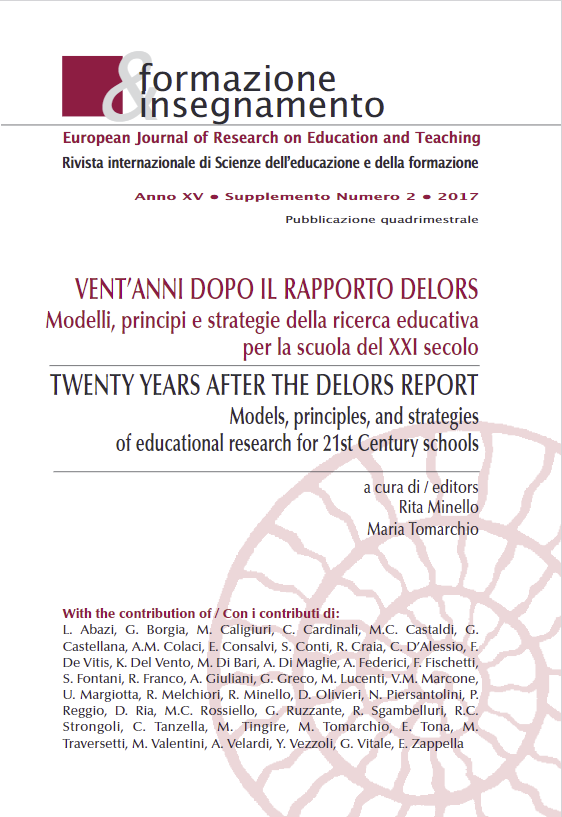 Downloads
How to Cite
Fischetti, F., & Greco, G. (2017). Long-term motor sports educational practice and active lifestyle: prevention of occupational stress in to Police and psychophysical well-being. Formazione & Insegnamento, 15(2 Suppl.), 129–140. Retrieved from https://ojs.pensamultimedia.it/index.php/siref/article/view/2587
License
Copyright (c) 2017 Francesco Fischetti, Gianpiero Greco
This work is licensed under a Creative Commons Attribution 4.0 International License.
Formazione & insegnamento is distributed under Attribution 4.0 International (CC BY 4.0).
For further details, please refer to our Repository & Archiving Policy, as well as our Copyright & Licensing Terms.