Recognizing and promoting talent and high potential of Gifted students: from self-evaluation tests to personalized didactic strategies
Abstract
The recognition of talent and the enhancement of high potential pupils represents an important challenge for Italian school system. With the Miur (Ministry of University and Research) note n. 562 of April 3, 2019, children with high intellectual potential are recognized within Special Educational Needs. This entails the need for teachers to be trained both in the phase of recognition of any critical situations and manifestations of unease related to giftedness, and in the implementation of differentiated and personalized teaching approaches. After describing some evaluation tests, validated at an international level, which allow to carry out a diagnostic analysis of some central dimensions in relation with giftedness - among which, in particular, Potential Intelligence Test - the fundamental principles of personalized teaching are described, deepening in particular some differentiated strategies that allow a valorization of talents.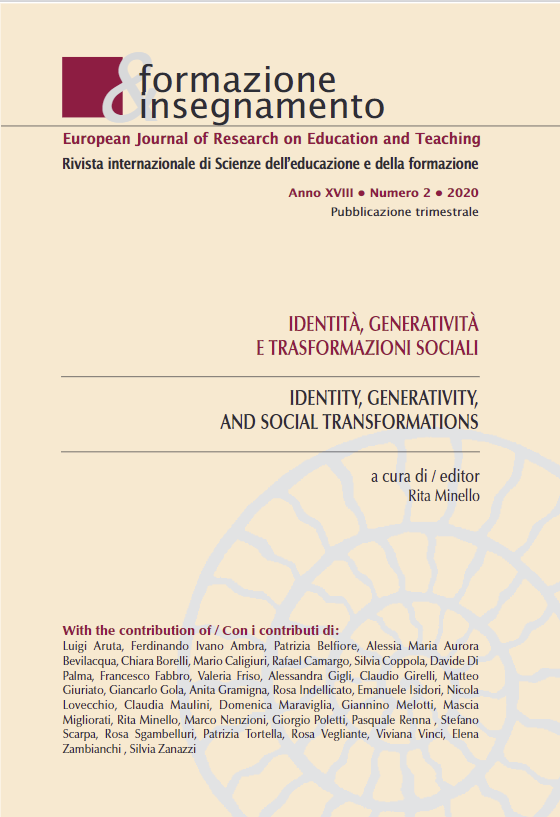 Downloads
How to Cite
Vinci, V. ., & Sgambelluri, R. (2020). Recognizing and promoting talent and high potential of Gifted students: from self-evaluation tests to personalized didactic strategies. Formazione & Insegnamento, 18(2), 253–269. https://doi.org/10.7346/-fei-XVIII-02-20_21
License
Copyright (c) 2020 Pensa MultiMedia
This work is licensed under a Creative Commons Attribution 4.0 International License.
Formazione & insegnamento is distributed under Attribution 4.0 International (CC BY 4.0).
For further details, please refer to our Repository & Archiving Policy, as well as our Copyright & Licensing Terms.