Identity, Generativity, and Social Transformations
Abstract
Per questo numero di Formazione & Insegnamento è stato scelto di approfondire i temi Identità, Generatività e Trasformazioni Sociali, perché essi corrispondono ad altrettanti campi in cui l'educativo e il sociale sono sollecitati a costruire società solidali, innovative e sicure (Horizon, 2020). I contributi degli Autori presenti in questo numero hanno colto da varie prospettive le sfide sottese. Le società democratiche contemporanee sono minacciate non tanto (e non solo) da fenomeni eclatanti ed eccezionali, quanto dalla coscienza ordinaria e convenzionale, che si piega a una comprensione meccanica degli eventi e soffoca l'autenticità dell'interazione democratica. Per affrontare negli spazi educativi tali prospettive serve instillare abitudini di consapevolezza critica che consentano di far emergere riflessioni focali sulla natura dell'identità che vogliamo auto-costituire, non semplice espressione del pensiero uniforme.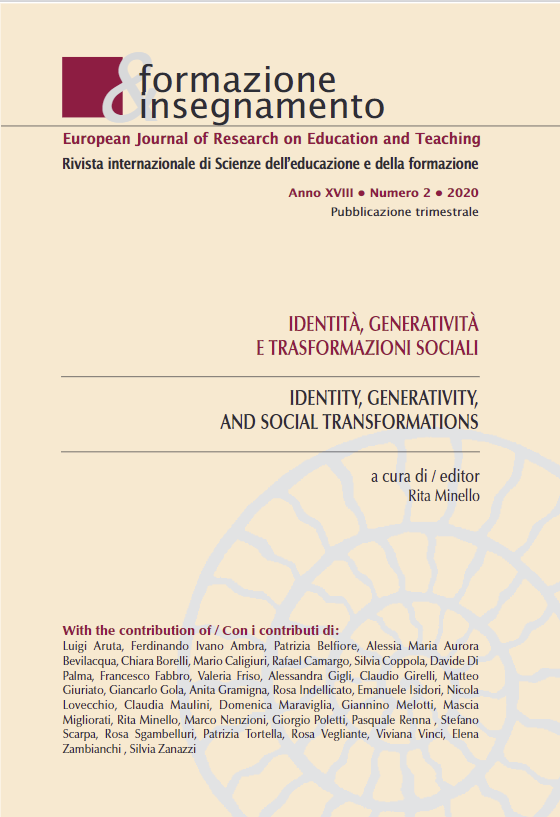 Downloads
How to Cite
Minello, R. (2020). Identity, Generativity, and Social Transformations. Formazione & Insegnamento, 18(2), 008–010. https://doi.org/10.7346/-fei-XVIII-02-20_01
License
Copyright (c) 2020 Pensa MultiMedia
This work is licensed under a Creative Commons Attribution 4.0 International License.
Formazione & insegnamento is distributed under Attribution 4.0 International (CC BY 4.0).
For further details, please refer to our Repository & Archiving Policy, as well as our Copyright & Licensing Terms.